Free personalized radio that
plays the music you love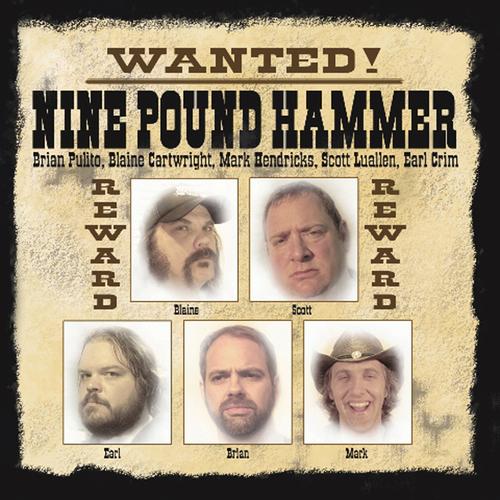 People who also like this
Known for their raucous, over-the-top fusion of punk rock, hard rock, country music, and hillbilly iconography, Nine Pound Hammer were one of the formative bands on the "cowpunk" scene that paved the way for alt-country in the late '80s and early '90s. The Nine Pound Hammer story began in early 1986, when a handful of friends in Owensboro, Kentucky put together a cover band called the Yuppie Mop Dogs. Featuring Scott Luallen on vocals, Blaine Cartwright on guitar, Brian Payne (aka Forrest Payne) on bass, and Toby Myrick on drums, the Yuppie Mop Dogs managed to score a two-night show at the Ross Theater in Evansville, Indiana. Although the Dogs weren't impressed with their own performances, they decided to continue using a new name, the Raw Recruits. Payne dropped out of the group, and Bart Altman stepped in on bass. The Raw Recruits began writing original material and playing out periodically in Owensboro and Evansville, and after winning over a skeptical crowd at a party for the Kentucky Wesleyan football team, they began taking their music just a bit more seriously. The Raw Recruits pulled up stakes and relocated to Lexington, Kentucky, where they changed their handle to the Black Sheep and began playing regularly at Great Scott's Depot, where one show actually caused the PA system to catch fire. When Toby Myrick left the Black Sheep, his bandmates recruited Darren Howard to play drums for the band, and they adopted a new name, Nine Pound Hammer, inspired by the classic country song by
Merle Travis
.
Not long after the band had become Nine Pound Hammer, they crossed paths with Len Puch, a Detroiter who ran an independent label called Wanghead Records, who released the first recordings by
the Gories
. Puch was impressed with Nine Pound Hammer, and was interested in recruiting the group for his label. By the time Nine Pound Hammer made their way to Michigan to record their debut album, Bart Altman and Darren Howard had left the group, and they were working with a new rhythm section of bassist Brian Moore and drummer Rob Hulsman. The Mud, the Blood, and the Beers, Nine Pound Hammer's first LP, was released by Wanghead in 1988, and the band toured hard in support, with Brian Moore dropping out after a drunken mishap on the road, and Matt Bartholomy signing on as their new bassist. By 1990, Wanghead Records had run out of steam, and the band found a new home at the fearless garage punk label Crypt Records. The second Nine Pound Hammer album, Smokin' Taters, was recorded during a three-day session in Brooklyn, New York, and appeared in 1991. The band supported the European release of the album with a punishing overseas tour that saw them play 56 shows in 65 days. Before the run was over, Rob Hulsman parted ways with the band, and Johnny Evans became their new drummer. Once the tour was over, Evans resigned, and Bill Waldron took over the drum throne.
In 1994, Nine Pound Hammer dropped their third album, Hayseed Timebomb, recorded in Glasgow, Kentucky. The band once again hit the road after the album hit stores, touring the United States, Canada, and Europe. The band's tour schedule took a toll on Bill Waldron, and Adam Neal took over as timekeeper for further live dates in the United States and Canada; Waldron came back to the lineup for a ten-day run in Japan. After returning home, Nine Pound Hammer decided to call it a day, and Blaine Cartwright formed a new band,
Nashville P**sy
. A posthumous Nine Pound Hammer live album recorded during a 1994 date in Holland, Live at the Vera, was released in 1998.
In 2000, Scott Luallen, Blaine Cartwright, Matt Bartholomy, and Bill Waldron played a pair of Nine Pound Hammer reunion shows, and by 2004, Luallen and Cartwright decided it was time to give the group another try. The singer and guitarist recruited a new rhythm section -- bassist Earl Crim and drummer Brian Pulito -- and recorded Kentucky Breakdown, released on the Acetate Records label. From this point on, Luallen and Cartwright were regularly revisiting Nine Pound Hammer when time permitted from their other commitments, and in 2005, they released Mulebite Deluxe, which combined rare 1989 recordings with new sessions recorded with the Kentucky Breakdown lineup. 2005 also saw Nine Pound Hammer invited to pen the theme song for the Adult Swim animated comedy series 12 Oz. Mouse. Another Adult Swim franchise, Aqua Teen Hunger Force, also hooked up with Nine Pound Hammer; the band wrote and recorded "Carl's Theme" for the show's 2007 big screen spinoff Aqua Teen Hunger Force Colon Movie Film for Theaters. Sex, Drugs, and Bill Monroe followed in 2008, and in 2009, they released a tour-only album, Country Classics, which found the band covering their own tunes in a down-home Nashville style. In 2010, Nine Pound Hammer staged a 25th Anniversary tour of North America and Europe, with a five-piece lineup featuring Luallen on vocals, Cartwright and Crim on guitars, Mark Hendricks on bass, and Rob Hulsman on drums. After the tour, Nine Pound Hammer laid low for a few years, but they returned with a vengeance in 2017, releasing two albums early in the year: A new studio effort, Bluegrass Conspiracy, and a live disc, The Barn's on Fire: Live in Kentucky. ~ Mark Deming
full bio
Selected Discography
Similar Artists
Don't have a Pandora account? Sign up
Already have a Pandora account? Log In