Free personalized radio that
plays the music you love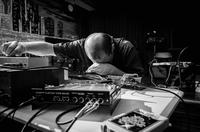 People who also like this
Aaron Dilloway is one of the most creative, prolific, and revered figures in the Midwest American experimental/noise scene. His performances and recordings incorporate rhythmic loops from eight-track tapes, vocal improvisations, found sounds, and field recordings. He uses contact microphones in order to generate harsh, feedback-laced noises, sometimes placing microphones inside his mouth in order to create bizarre, ogre-like distorted voices. While he channels some dark, violent energies into his sonic constructions, there's also a crucial element of playful, absurdist humor to his work, making his performances confusing yet highly enjoyable spectacles of Dadaist performance art. While Dilloway is perhaps best known for his involvement with Michigan noise group
Wolf Eyes
, he's had an extensive solo career, issuing hundreds of recordings (usually limited cassettes) under his own name as well as Spine Scavenger. In addition, he's also collaborated and issued split releases with other well-known noise and experimental artists such as
Kevin Drumm
,
Prurient
,
John Wiese
, and many others. Dilloway is also the owner of Hanson Records, a long-running experimental music label as well as a brick-and-mortar record store and mail-order service based in Oberlin, Ohio.
Born in 1976 and originally residing in Brighton, Michigan, Dilloway began going to basement shows in Ann Arbor during the mid-'90s. Inspired by local noise rock band Couch and experimental art rock bands Caroliner and
Sun City Girls
, he formed a discordant, lo-fi rock band called Galen. The group's first show was an opening slot for Couch. Dilloway eventually joined Couch, playing drums on a West Coast tour as well as a 1995 7". Galen's first 7" EP was co-released by Bulb Records (run by Couch's Pete Larson and Magas) and Dilloway's newly formed Hanson Records. The label also released cassettes by
Andrew W.K.
's early project Ancient Art of Boar, which Dilloway also recorded with. Dilloway and Galen's Steve Kenney began experimenting with tape loops, synthesizers, and delay pedals, forming a project called Isis and Werewolves. In 1997, as Dilloway moved to Ann Arbor, the label released an experimental collage tape by
Nate Young
performing under the name
Wolf Eyes
.
Young
and Dilloway performed a few gigs together under the jokey moniker Michigan Wolverines (also the name of the University of Michigan's football team), but eventually they just referred to the duo as
Wolf Eyes
. Dilloway also joined Universal Indians, an improvisational noise group influenced by free jazz as well as hardcore punk. Universal Indians' John Olson joined
Wolf Eyes
, and their music morphed from punk-based industrial rock (as on their 2000 self-titled EP on Bulb Records) to more experimental, improvisation-heavy noise. However, Olson and Dilloway also went back to their punk roots with Violent Ramp, a skateboarding-themed hardcore band.
Wolf Eyes
became restlessly prolific, documenting their performances and rehearsals with dozens (eventually hundreds) of limited cassettes and CD-R releases, primarily issued by either Hanson or Olson's American Tapes.
Wolf Eyes
' 2001 albums Slicer and Dread received notice from the greater indie music world, and the band released the Dead Hills EP on Troubleman Unlimited in 2002. A tour with
Black Dice
led to a split LP by the two groups (issued by Fusetron in 2003), and eventually
Wolf Eyes
shocked everyone by signing with Sub Pop for 2004's Burned Mind, which turned out to be one of their most brutal, ugly recordings yet. Dilloway soon left
Wolf Eyes
, however, as he became stressed out from the constant touring. His final session with
Wolf Eyes
was for a Peel Session that unfortunately ended up being recorded a week after John Peel died in October of 2004. Dilloway temporarily relocated to Nepal, where his wife Erika Hoffmann (vocalist for
Godzuki
,
Saturday Looks Good to Me
,
His Name Is Alive
, and other Michigan indie pop bands) was studying, and
Hair Police
's Mike Connelly replaced Dilloway in
Wolf Eyes
. Dilloway constantly recorded audio while in Nepal, and after he returned to the States, he issued a set of field recordings and Nepalese pop songs called Sounds of Nepal, as well as Radio Nepal, a series of recordings taped off Nepalese radio. He incorporated further Nepalese recordings into his subsequent solo work.
Around 2007, he moved to Oberlin, Ohio and began collaborating with numerous Ohio-based artists, including
Emeralds
and Robert Turman. In early 2012, he released a long-in-the-making double LP titled Modern Jester, which featured some of his most rhythmic compositions to date. The release received excellent reviews, and was often referred to as his best work. Also in 2012, he collaborated with
Jason Lescalleet
on a more drone-based album titled Grapes and Snakes, released by Bill Kouligas' Pan label. In 2013, Dilloway contributed to
Wolf Eyes
' No Answer: Lower Floors album, which was hailed as one of their best works. Later in the year, he opened up his Hanson Records shop in Oberlin. Popeth, a further collaboration with
Lescalleet
, was released in 2014. Subsequent releases included collaborations with Bill Nace and Dylan Nyoukis. ~ Paul Simpson
full bio
Selected Discography
Similar Artists
Don't have a Pandora account? Sign up
Already have a Pandora account? Log In