Free personalized radio that
plays the music you love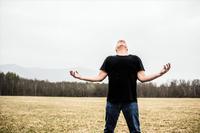 People who also like this
As Gene Ween, Aaron Freeman was frontman of the legendary alt-rock pranksters
Ween
, a duo who specialized in singing any style they ever encountered. Early on, they'd alternate between punk rock skronk and nervy
Prince
tributes; they soon threaded in pop and psychedelia and famously headed to Nashville to record a full album with a bunch of Music City veterans. Freeman continued this omnivorous musicality in his solo career, which he launched in earnest in 2012 with a collection of
Rod McKuen
covers called Marvelous Clouds.
By the time he released Marvelous Clouds, Freeman had been musically active for nearly 30 years. He first met partner in crime Mickey Melchiondo -- aka Dean Ween -- when they were in eighth grade in New Hope, Pennsylvania. The two struck up a friendship that manifested itself in long hours of recording original music in their bedrooms, enough to cover six self-released tapes; additionally, Freeman had one cassette called Synthetic Socks that was billed as a solo release. Eventually, the tapes came to the attention of Minneapolis-based Twin/Tone Records, who signed the band in 1989, releasing GodWeenSatan that same year. One more odd indie record followed -- 1991's The Pod -- before the group signed to Elektra in 1992. Pure Guava, their 1992 Elektra debut, gained traction on the heels of its single "Push th' Little Daisies," a
Jackson 5-ish
ditty featuring Gene's electronically sped-up voice. Its video horrified Beavis & Butt-Head and, subsequently, the band's cult grew and it expanded further with 1994's Chocolate & Cheese, a record that found them making great musical leaps.
Ween
entered a purple patch in the late '90s, recording 1996's 12 Golden Country Greats with many storied Nashville musicians (not so coincidentally, it provided the best-yet showcase for Freeman's vocal versatility); releasing the heady, nautically themed psych pop of The Mollusk in 1997; then closing it out with 2000's White Pepper. After that,
Ween
split from Elektra and launched their own imprint, Chocodog Records, using that as a way to release archival live albums. Their output of new material slowed in the 2000s -- they only released Quebec in 2003 and La Cucaracha in 2007, both for different indie labels -- but they kept touring, their cult expanding through hard work and the adoption of the jam band audience after
Phish
began performing
Ween
's 1994 tune "Roses Are Free" with regularity in their concerts.
Freeman battled various personal problems, including substance addiction, during the 2000s and when he focused on his recovery he also concentrated on a solo career. He formed the Gene Ween Band in 2008, an outfit that later evolved into solo concerts by Freeman where he sang his deep catalog of songs. Soon, this morphed into a full-fledged solo career, assisted by producer
Ben Vaughn
, who'd helmed 12 Golden Country Greats and collaborated with Freeman on a collection of covers from pop poet
Rod McKuen
. Marvelous Clouds appeared in the spring of 2012; at the time of its release, Freeman announced that he was working on a second solo album consisting of original material. To tide over fans until the release of the second solo album, Freeman released an EP called Gener's Gone: The Final Demo Recordings of Gene Ween in 2013. The following year brought Freeman, his first collection of original songs since
Ween
's 2007 album La Cucaracha. It appeared in July 2014. ~ Stephen Thomas Erlewine
full bio
Selected Discography
Similar Artists
Don't have a Pandora account? Sign up
Already have a Pandora account? Log In