Free personalized radio that
plays the music you love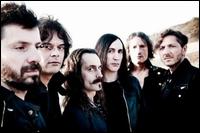 People who also like this
Along with Marlene Kuntz and C.S.I., Afterhours were the most important rock band to emerge from Italy in the 1990s -- although their career had started the previous decade. Their energetic and extremely personal style gained them huge success and the attention of the critics, who immediately recognized the talent of their leader, singer/guitarist Manuele "Manuel" Agnelli (b. 1966), whose multiple activities (musician, writer, producer, manager) gained him a pivotal role in the growth of the Italian indie scene.
Formed in Milan in 1986, Afterhours -- the name comes from a
Velvet Underground
song -- debuted two years later with a 7" single released by Turin-based indie label Toast, including the tracks "My Bit Boy" and "To Win or Destroy." The initial lineup of the band was comprised of Agnelli along with guitarist Paolo Cantù, bassist Lorenzo Olgiati, and Roberto Girardi on drums. The EP All the Good Children Go to Hell (recorded with new drummer Max Donna) followed two years later, to huge critical acclaim. Its mixture of
Lou Reed
influences and pop melodies gained some attention outside Italy, too, as confirmed by a positive review in the English magazine New Musical Express. In the same year, Agnelli was one of the founders of Vox Pop, which would become Italy's most important indie label up to the first half of the following decade. Thanks to a positive review in U.S. magazine Alternative Press, Afterhours (with Girardi back on drums) took part in New York's 1990 New Music Seminar. At the end of the year, the band released its first album, During Christine's Sleep.
In 1992 Afterhours returned with a brand new lineup -- Agnelli, Cesare Malfatti (guitar), Paolo Mauri (bass), and Giorgio Prette (drums) -- and a new EP, Cocaine Head, recorded with the help of Andrea Scaglia and Fabrizio Rioda, both from Ritmo Tribaleand also including a cover version of
King Crimson
's "21st Century Schizoid Man." Then, with Malfatti and Mauri replaced respectively by Xabier Iriondo and Alessandro Zerilli, Afterhours recorded their first song in Italian, "Mio Fratello è Figlio Unico," for the Rino Gaetano tribute album E Cantava le Canzoni. Pop Kills Your Soul, Afterhours' second album, followed in 1993, and showed a more personal band, equally influenced by
Velvet Underground
, glam, and hard rock. After recording another song in Italian -- Ivano Fossati's "La Canzone Popolare" for the tribute I Disertori (1994) -- Afterhours decided to switch permanently to their own native tongue. The first result of this change, Germi, was released in 1995, and included both new tracks and translations of old songs -- one of which, "Dentro Marilyn," would later be covered by
Mina
with the title "Tre Volte Dentro Me," thus giving Agnelli huge visibility as a songwriter, too. From that moment on, the singer would start a career as a producer as well, working with artists such as Cristina Donà, Verdena, and Massimo Volume.
Because of Vox Pop's shutdown, Afterhours -- now a trio composed of Agnelli, I$Iriondo, and Prette -- signed a deal with Mescal and in 1997 released Hai Paura del Buio?, one of the most influential Italian rock albums of the decade, in which the style of the band was more personal and multifaceted than ever, including psychedelic and acoustic elements in its recipe. All of its 19 tracks became hymns for a whole generation of rock fans, and in particular "Male di Miele" is considered by many to be the Italian counterpart of
Nirvana
's "Smells Like Teen Spirit." For the following tour, the lineup was augmented by Andrea Viti on bass and Dario Ciffo on violin. Released in 1999, Non è Per Sempre, without blunting Afterhours' rockier edges, also showed their poppier side, as documented by the title track, a heartfelt orchestral ballad. Right after its release, the band went on the road again with live-only guitarist Giorgio Ciccarelli; those concerts are documented on 2001's live album Siam Tre Piccoli Porcellin, which also included the new song "La Sinfonia dei Topi." In the same year, Iriondo announced his decision to leave the band, and Agnelli -- who in the meantime had published the controversial short stories collection Il Meravigliso Tubetto -- organized the first edition of Tora! Tora!, a festival that for some years would become the most important event for the alternative rock scene in Italy.
Released in 2002, Quello Che Non C'è showed Afterhours' most intimate and mature side, and confirmed the band's success. In 2004 they shared a tour with
Greg Dulli
's
Twilight Singers
and then released as a single their rendition of Area's "Gioia e Rivoluzione," from the soundtrack of Guido Chiesa's movie Lavorare con Lentezza, in which they also appeared. Then Agnelli guested on
the Twilight Singers
' album She Loves You and toured with them as a keyboardist both in Italy and in the U.S. This led
Dulli
to produce the next Afterhours album, 2005's Ballate per Piccole Iene, mixed by
John Parish
. Later that same year, One Little Indian released its English version internationally, titled Ballads for Little Hyenas, in support of which the band started a long world tour. With the band now comprised of Agnelli, Prette, Ciffo, Ciccarelli (now a full-time member), new bassist Roberto Dell'Era, and Mariposa's Enrico Gabrielli on sax, flute, and keyboards, Afterhours releasedI Milanesi Ammazzano il Sabato, their most sonically adventurous work to date, in 2008 on Universal. The album included appearances by guests such as
Dulli
,
Parish
,
Zita Swoon
's Stef Kamil Carlens, and old member Cesare Malfatti. ~ Aurelio Pasini
full bio
Similar Artists
Don't have a Pandora account? Sign up
Already have a Pandora account? Log In