Free personalized radio that
plays the music you love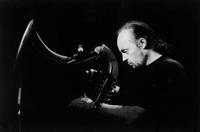 People who also like this
If there is a single savior of Celtic music, Alan Stivell is probably it. Since the end of the 1960s, he has done more to revive interest in the Celtic (specifically Breton) harp than anyone in the world and, in the process, almost singlehandedly made the world aware of native Breton Celtic music. Since 1971, he has been recording albums of extraordinary beauty and diversity, ranging from ancient Breton and Irish material to modern folk-rock and progressive rock.
He was born Alan Cochevelou, the son of a harp-maker. His father was the rediscoverer of the Breton harp, but he started his musical life on a somewhat more conventional instrument, taking up the piano at age five. He was given a harp by his father at age nine, and studied for the next several years under the direction of his father and Ms. D. Megevand, a concert harpist, freely mixing classical repertoire and arrangements of Breton, English, Irish, Scottish, and Welsh folk material.
Stivell was playing concerts at age 11, and he began taking up the more general study of traditional popular Celtic music, including the Scottish bagpipes, drum, Irish flute, and tin whistle, while in his teens. He ultimately became well-versed in all of these and won honors in national piping competitions in Scotland, and chose the professional name of Stivell, the Breton word meaning fountain, spring, or source. By the age of 21, while studying for his degree in English, he became an established folk musician, recording songs to his own harp accompaniment. While his singing is less effective than his harp or bagpipe playing, his voice is expressive, and most of his albums feature a mix of vocal and instrumental music. In 1967, he formed a group consisting of himself on harp, bagpipes, and Irish flute and
Dan Ar Bras
on electric guitar, backed by bass and drums. He released several albums during this period, including Reflections (1971), A l'Olympia (1972), Chemins de Terre (1972), Celtic Rock (1972), and E. Lagonned (1976). He left the group in the mid-'70s to concentrate exclusively on a solo career -- by this time, he had become a major influence on a multitude of folk-rock musicians with his interweaving of electric and traditional instruments.
During the early '70s, he acquired a popular following in France and England. By the mid-'70s Americans -- and not only those of Irish or, more rarely, Scottish, Welsh, and Breton descent, but those interested in things Celtic -- were discovering Stivell in growing numbers, prompting labels such as Rounder to begin releasing his work (until then, available only as expensive imports) in the United States. Stivell's first major solo album, Renaissance of the Celtic Harp (1972), remains a favorite among fans of the stringed instrument, while his later albums also display his abilities with bagpipes and as a singer. For a time during the mid-'70s, his success placed traditional Breton and Celtic music on the English charts on a regular basis.
Stivell's biggest accomplishment, however, involved the rebirth and rediscovery of an instrument and an entire cultural history. His career brought to fruition the revival of the Breton harp that his father had begun in the 1930s and '40s. The harp had a long and honored place in the history of the Celtic peoples, first embraced (and possibly invented) by the primordial Irish people, who carried it to Scotland and Wales, and later to Brittany and the rest of the European mainland. Although preserved as an image in numerous works of art, the Breton harp had receded from memory and use well before the 20th century. Alan Stivell played his father's first modern Breton harp for the first time in 1953, and within 20 years there were over 100 players where there had been none. Stivell has also used harps from Ireland, Scotland, and Wales in his recordings and performances.
More recently, he has moved in two different directions simultaneously, into the realm of folk-rock with a band of Breton musicians, and serious music with his Celtic Symphony, a work for mixed ensemble of orchestra, Breton and Irish instruments, and voices. A somewhat enigmatic figure, given his focus on Breton culture, Stivell is one of the most compelling of folk musicians, and has achieved stature outside the folk music world, such that musicians like
Kate Bush
have appeared on his recent albums.
Stivell's music has found an audience among people who have never been anywhere near Brittany, Ireland, Scotland, or Wales. The Celtic peoples were among the westernmost settlers of Europe, and occupied some of the bleakest yet most starkly beautiful land in Europe -- the Romans, in particular, couldn't understand why any sane race would want to live in those places. But, of course, the Romans are gone, buried, and seldom discussed save for their language and a handful of literary works and historical figures; by contrast, hardly anybody born outside of Scotland or Wales can speak those native languages (or would want to -- and the last native speaker of Manx died some years ago), yet their music is still played, and their culture exerts a pull on people the world over. Celtic music has always had an element of loneliness, of the single harpist, piper, or drummer looking out across the vastness to the west (all that lay west was, of course, the Atlantic Ocean and America some 3,000 miles away), and Stivell, more than any other single musician, captures the inherent joy, wistfulness, and loneliness in this music.
Additionally, some of the more recent developments in music and audiences have expanded his audience even further. His harp recordings, with their enveloping lyricism and tightly interwoven patterns of variations, can appeal to more serious listeners of new age music. Alan Stivell's main audience, however, lies with fans of Celtic music and culture, and English folk music. Embracing ancient and modern elements, but (apart from his folk-rock work) making no compromises to modern melodic sensibilities, his music captures the mystery and strangeness of Breton, Irish, Welsh, and Scottish landscapes that are both ageless and timeless. It is haunting, mysterious, and beautiful, with no equivalent in modern popular music and few peers in the realm of commercial folk music. ~ Bruce Eder
full bio
Selected Discography
Similar Artists
Don't have a Pandora account? Sign up
Already have a Pandora account? Log In