Free personalized radio that
plays the music you love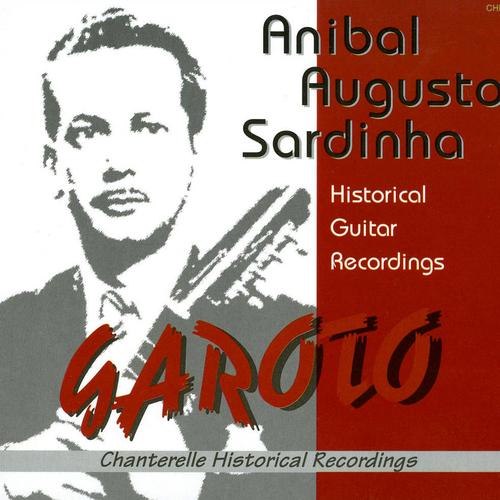 People who also like this
Garoto was an underrated genius of popular music. When Brazilian songs were into simpler harmonies and the grandiloquent, dramatic discourse of the betrayed lovers and the likes, Garoto was composing "Duas Contas," a song which, in terms of harmony, interpretation, and lyrics, can very well be considered the precursor of bossa nova. And that was in 1940, several years before Laurindo de Almeida's (he himself a former partner of Garoto's) own experimentations with a new guitar rhythm, and
João Gilberto
's perfection of that particular genre. Garoto was the son of Portuguese immigrants Antônio Augusto Sardinha and Adosinda dos Anjos Sardinha. His father played Portuguese guitar and violão (acoustic guitar), his brother Inocêncio was also a violonista and singer, and his older brother Batista played the banjo, among other instruments. Batista was his first inspiration, having received from him his first instrument: a banjo. Having to start to work very young due to the precarious situation of his family after his father becoming ill, at the age of 11 he was already an assistant at a musical instrument retailer. At the same time, his career as an instrumentalist began at the Regional Irmãos Armani. He was known as "
Moleque do Banjo
" ("the Banjo Kid"). In 1927 he would join his brother Inocêncio's group, Conjunto Dos Sócios. In that year he began to present himself in solo acts in cafes, accompanied by Ariovaldo Pires (because he was an underage). In 1929, at the Palácio das Indústrias, Garoto had his first opportunity to play side by side with famous musicians such as Canhoto, Zezinho, and Mota, on radio shows sponsored by General Motors. Shortly thereafter, he helped form the Zé Maria orchestral group, and then joined Pinheirinho Barreto and Aluísio Silva Araújo, recording "Zombando da Morte," which was a major hit.
Meanwhile, the artistic scene was concentrated in Rio de Janeiro and that period was known as the "Golden Age" of Brazilian song, with the major activity surrounding the radio stations and recording companies based in Rio. São Paulo had a minor share of incipient broadcasting and recording facilities, which were where Garoto began his artistic enterprise. He began to record at the end of the '20s, accompanied by his professor, Paraguassu (Roque Ricciardi), the most successful
paulista
(from São Paulo) musician. Paraguassu was already an established singer, having appeared in several movies; he proved the best passport into show biz that Garoto could have had. With Batista Júnior (father of Dircinha and Linda Batista), Garoto played all around upstate São Paulo. Then was hired by Rádio Record, sharpening his instrumental abilities in those incipient, improvised shows at the dawn of radio broadcasting in Brazil.
In 1930, Garoto recorded his first solo album through Parlophon, under artistic direction of the renowned Radamés Gnatalli. Garoto, on the banjo, accompanied by Serelepe (D. Montezano), on the violão, recorded "Bichinho de Queijo,"
maxixe-choro
, and "Driblando,"
maxixe
, two compositions by Garoto.
Soon afterwards Garoto met Aimoré, a famous artist, and started to play with him in venues all over São Paulo. In 1931, Garoto was invited to work at the Rádio Educadora Paulista, where he added
cavaquinho
and
bandolim
(mandolin) to his arsenal. In this gig he'd substitute Zezinho do Banjo, the "Zé Carioca" who'd work later at Fox Studios in the U.S., and inspire a young Walt Disney to create the character Zé Carioca portrayed in his movie Saludos Amigos (1943). In 1931, Rádio Educadora Paulista promoted a Brazilian music contest, in which the best interpreters and musicians in the popular preference "won." These musicians included Gaó, Zezinho, Pinheirinho, Armandinho, Arnaldo Pescuma, Paraguassu, and Garoto, (who came in at sixth place) after Zezinho, Luiz Buono, Amador Pinho, José Caparica, and Thomaz dos Anjos. In 1934, Garoto was invited to join Rádio Cosmos, an ambitious project devised to take the market but which bankrupted one year later. Meanwhile, Garoto went on playing all over Brazil and collecting enthusiastic mentions and praise from the critics. A commercial trick used by the radios was to send their best artists to their "artistic caravans," which traveled to several states, with Garoto always playing a distinctive role. In this period, Garoto found time to appear in the musical movie Fazendo Fitas, directed by Vittorio Capellaro.
When visiting southern Brazil in the IV Caravana Festival, Garoto and Aimoré were invited to work at Cassino Farroupilha, in Porto Alegre, RS. They signed their first contract as a duo and returned to São Paulo, waiting for the inauguration. In October, 1935, they headed south once more to appear in several radio shows. Extending the tour to Argentina, they performed an important deed: accompanying the great tango master,
Carlos Gardel
, in Buenos Aires. Returning to São Paulo, they were hired by Breno Rossi for Rádio São Paulo.
In 1936, renowned singer Sílvio Caldas adhered to a caravan which visited São Paulo. There he asked for a
choro
group to accompany him. Under suspicion (the serious São Paulo was (and in a way, still is) generally disregarded by Cariocas when the subject is swingin' music); the duo were auditioned by Sílvio who, deeply impressed, hired them immediately for his appearances at Teatro Santana. Their performances there were so good that he invited them to work in Rio. Upon their arrival at the theater, Garoto was immediately invited to work at the Rádio Mayrink Veiga, which had one of the best casts in Brazil, where he'd met Laurindo de Almeida and
Carmen Miranda
. Working in the radio and accepting as many invitations as he could, he soon became exhausted and over-stressed by the excessive work and would return to São Paulo.
By 1937 he'd recovered, and was hired by Rádio Cruzeiro do Sul of São Paulo to work with their regional theater and the Orquestra Colúmbia. He insistently called upon his partner, Aimoré, who returned to São Paulo. Together they would work in radio stations Cruzeiro do Sul and Cosmos until 1938, when the two went their separate ways.
Garoto would move again to Rio, and again he was hired by Rádio Mayrink Veiga, where he established himself as part of a duo with Laurindo de Almeida -- "the duo of the syncopated rhythm" -- Duo do Ritmo Sincopado, The duo recorded for Odeon, backing Henricão, Carmen Costa, Jararaca e Zé Formiga, Alvarenga e Ranchinho, Dorival Caymmi, Ary Barroso, and
Carmen Miranda
.
In April, 1939,
Carmen Miranda
embarked to the U.S. with the Bando da Lua. In May she opened in the musical Streets of Paris, where she made quite an impression on the Boston audiences. She promptly appeared at the New York World's Fair, and in an NBC television show, directly broadcast to Brazil by César Ladeira through Rádio Mayrink Veiga. Riding this gigantic wave of popularity,
Miranda
had to manage the crisis of losing Ivo Astolfi, member of the Bando da Lua who returned to Brazil. She telegraphed Garoto, inviting him to join them. On October 18, 1939, Garoto went to the U.S. The
baiana
shows were followed by Garoto's solo performances. In the audience of his solo act were jazz giants such as
Duke Ellington
and
Art Tatum
. The organist Jesse Crawford nicknamed him "The man with golden fingers." Garoto played in Chicago, Detroit, New York, Washington, San Francisco, Pittsburgh, Saint Louis, and Toronto. Accompanying
Miranda
in the Bando da Lua, he worked in the Streets of Paris musical on Broadway, with special guests
Abbott & Costello
. With an all-star cast alongside the Bando da Lua and Garoto, the movie Down Argentine Way, directed by Irving Cummins, featured with the Brazilians and the songs "South American Way" (McHugh/Dubin), "Mamãe eu Quero" (Jararaca/Vicente Paiva), "Bambu Bambu" (Patrício Teixeira/Donga), and "Touradas em Madri" (João de Barro/Alberto Ribeiro); all were recorded on Decca.
During this period, Garoto and the Bando da Lua followed
Miranda
to the best nightclubs in New York, like Versailles and `the Waldorf Astoria. In Chicago, they played at the Colonial Night Club. In March, 1940, they made a special appearance at the White House for President Franklin D. Roosevelt, who was reportedly enthusiastic.
When the contracts ended in July, 1940, the whole group returned to Brazil. Garoto wasn't just a member of the Bando da Lua. His name figured in the spotlights and record labels along with
Miranda
's and side by side with Bando da Lua's. On the other hand, the Bando da Lua was downgraded from an established group with its own career to mere accompanists for the rest of its existence. Garotowas repeatedly invited to break his contract and follow other impresarios, but he never did. He was interested in working again with
Miranda
and touring the U.S. in July, 1940, but his demand for parallel solo performances -- which would have taken his music to a higher status -- was turned down, and he remained in Rio. He returned to his work at Rádio Mayrink Veiga until 1942, when he moved to Rádio Nacional, the strongest station which, with its potent equipment, could reach the entirety of Brazil, and in just a short tim, the group's name became synonymous with Brazilian radio. It had on its payroll six orchestras (one complete symphonic), eleven "regionais" (small
choro
groups) and ten other small groups. Garoto would stay with them until 1954. In their shows he worked with the cream of the Brazilian artists, between them Radamés Gnatalli, Carolina Cardoso de Meneses,
Luiz Bonfá
, and Jacó do Bandolim. The salary was low, though, and he had to travel around the country, appearing in theaters and radio stations to make a living. With humorist José de Vasconcelos he toured through São Paulo state. He'd written the music for Vasconcelos' play Precisa-se de um presidente, and together they had written "Sorriu para Mim," "Zombas de Mim," "Alô, Quem Fala?"
At that time he had been recorded mostly by Odeon, with some productions for RCA Victor and Continental. His first solo album, for Odeon, includes "Abismo de Rosas" (Américo "Canhoto" Jacomino) and "Quanto Dói uma Saudade" (Garoto). Recorded in September, 1940, it was issued two years later. Then, in 1949, he became an exclusive artist for Odeon, recording "1 a 0" by
Pixinguinha
and Benedito Lacerda (Benedito has many credits as
Pixinguinha
's partner, but most were solely his own). In April, 1951, he recorded "Abismo de Rosas" (Canhoto) and his famous "Tristezas de um Violão." Soon would follow the
baião
"Meu Coração," and the
choro
"Triste Alegria," along with "Baião Caçula" (Mário Gennari Filho) and "Perigoso" (Ernesto Nazareth).
Garoto's records began to sell well, and he became quite successful. Other singers became interested in recording his compositions. He recorded well-sold "Melancolie" (Alain Romans) and "Kalu" (Humberto Teixeira), reaching the third place in the Top Ten. "Errei Sim," by Ataulpho Alves, and "Famoso" (Ernesto Nazareth) were also well-accepted. During this same period, Dircinha Batista recorded "Estranho Amor" (Garoto/David Nasser). But the
big
hit would be the
polca-dobrado
"São Paulo Quatrocentão" (Garoto/Chiquinho do Acordeon), recorded for Odeon in 1953 by Garoto and the excellent accordion player Chiquinho do Acordeon, while the other title recorded by Datista was "Baião do Rouxinol," also Garoto and Nasser's. The record sold over 700.000 copies, establishing a record in Brazil which remained unbroken for quite some time. This song was recorded by many other artists. In 1952, Garoto invited violinist Fafá Lemos (Rafael Lemos Júnior) and accordionist Chiquinho do Acordeon (Romeu Seibel) to perform together in the radio show Música em Surdina. This would yield the Trio Surdina. They recorded extensively for Musidisc, beginning with "Duas Contas" (Garoto). During this time, he recorded a solo album with compositions by Ary Barroso. The tapes were kept in a safety deposit box at Odeon's until after Garoto's death, when they were issued with a post-mortem orchestral accompaniment created and conducted by Leo Peracchi, under the name Garoto Revive em Alta Fidelidade. The honor of being the person who first played the violão, an instrument ancestrally identified with low-life outsiders, in the erudite, elitist temple of the Teatro Municipal do Rio de Janeiro, was Garoto's. In 1953, he soloed the Concertino No. 2 para Violão e Orquestra, by Radamés Gnattalli, who dedicated the piece to Garoto. The conductor was Eleazar de Carvalho. This wasn't the only classical piece performed by Garoto. In August, 1954, the Rádio Gazeta of São Paulo presented the show Suíte de Gala Antártica where Garoto, accompanied by pianist Fritz Jank and the Orquestra Sinfônica da PRA-6, conducted by Armando Belardi, played two pieces by Radamés Gnatalli: Suíte para Piano e Violão" and Concertino No. 2. On May 3, 1955, in Copacabana, Rio, Garoto died of a stroke, at the age of 39. He was, in Brazilian popular music, the very link between the ancient, Iberian tradition of dramatic sentimentalism, and the matter-of-fact tone of the post-bossa nova tradition. The once-revolutionary tendencies were becoming widespread by the mass media: Ravel, Wagner, Debussy, Stravinski, Bartok -- the same classical influences who were being appropriated by the jazz idiom were the fuel for Garoto's innovations, who took jazz elements, too, into his mixes. Garoto, a true representative of the old tradition of
choro
, extended its boundaries by devising a sophisticated harmonic treatment, and preceded the dissonant harmony, colloquial lyrics, and interpretation in Brazilian song that would become mainstream after the bossa nova. ~ Alvaro Neder, Rovi
full bio
Selected Discography
Similar Artists
Don't have a Pandora account? Sign up
Already have a Pandora account? Log In