Free personalized radio that
plays the music you love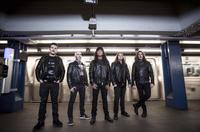 People who also like this
Nearly as much as
Metallica
or
Megadeth
, Anthrax were responsible for the emergence of speed and thrash metal. Combining the speed and fury of hardcore punk with the prominent guitars and vocals of heavy metal, they helped create a new subgenre of heavy metal on their early albums. Original guitarists
Scott Ian
and Dan Spitz were a formidable pair, spitting out lightning-fast riffs and solos that never seemed masturbatory. Unlike
Metallica
or
Megadeth
, they had the good sense to temper their often serious music with a healthy dose of humor and realism. After their first album, Fistful of Metal, singer Joey Belladonna and bassist Frank Bello joined the lineup. Belladonna helped take the band farther away from conventional metal clichés, and over the next five albums (with the exception of 1988's State of Euphoria, where the band sounded like it was in a creative straitjacket), Anthrax arguably became the leaders of speed metal. As the '80s became the '90s, they also began to increase their experiments with hip-hop, culminating in a tour with
Public Enemy
in 1991 and a joint re-recording of
PE
's classic "Bring the Noise."
After their peak period of the late '80s, Anthrax kicked Belladonna out of the band in 1992 and replaced him with ex-
Armored Saint
vocalist
John Bush
-- a singer who was gruffer and deeper, fitting most metal conventions perfectly. Subsequently, their sound became less unique and their audience shrank slightly as a consequence, and after signing to Elektra for 1993's Sound of White Noise, the group left the label after just one more album, 1995's Stomp 442. At that point, Anthrax -- now a four-piece consisting of
Ian
, Bush, Bello, and drummer Charlie Benante -- built their own studio in Yonkers, New York, and after a three-year hiatus returned with their Ignition label debut, Volume 8: The Threat Is Real. Anthrax's very first "hits" collection was released in 1999; titled Return of the Killer A's: The Best Of, it was also their first release for the Beyond label. The album included a cover of "Ball of Confusion," which featured a duet between current frontman Bush and former vocalist Belladonna. A proposed tour that was to include both vocalists was announced, but on the eve of its launch, Belladonna pulled out, reportedly for monetary reasons. The tour carried on, as Anthrax signed on to participate in a package tour during the summer of 2000 with Mötley Crüe and
Megadeth
, but left the tour after only playing a handful of dates.
Anthrax appeared on the
Twisted Sister
tribute album Twisted Forever in 2001 (covering the track "Destroyer"), and began recording their next album the same year. In addition, guitarist
Ian
found time to regularly host the metal television program Rock Show on VH1, plus he appeared as part of the fictional metal band Titannica in the film Run, Ronnie, Run. VH1 programming heads eventually replaced
Ian
with
Sebastian Bach
, but the band was ready to head back into the studio anyway. New guitarist Rob Caggiano joined in the spring of 2002, just in time for the recording. A year later, Anthrax made their Sanctuary debut with We've Come for You All. The band's dynamic hadn't changed, and touring in support of that album was met with overwhelming success. The CD/DVD set Music of Mass Destruction: Live in Chicago, which arrived in spring 2004, celebrated Anthrax's two decades in the business. Then, in 2005, Anthrax's entire original lineup of
Ian
, Spitz, Belladonna, Benante, and Bello reunited for a tour and the CD/DVD retrospective Anthrology: No Hit Wonders 1985-1991. Anthrax also issued Alive 2, recorded during their summer 2005 reunion tour. In 2007, Dan Nelson, formerly of the group Devilsize, took over vocal duties. The band announced the return of vocalist
John Bush
in 2009, though the stint was never deemed permanent. The vocal pendulum shifted again the following year with an announcement that Belladonna was returning to the fold for future shows, as well as the beginning of work on a new Anthrax album. The resulting Worship Music, the band's tenth studio album, and the first to feature original material since 2003's We've Come for You All, was released on September 13, 2011. Worship Music was a strong comeback that earned the group a Grammy nomination, and Anthrax followed it up with some dumb fun, in the form of an 2013 EP of '70s classic rock covers, titled Anthems. ~ Stephen Thomas Erlewine & Greg Prato
full bio
Selected Discography
Similar Artists
Don't have a Pandora account? Sign up
Already have a Pandora account? Log In