Free personalized radio that
plays the music you love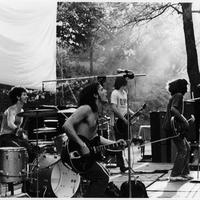 People who also like this
In the swing era, there existed what were called "territory bands," swing outfits that performed successfully in a specific region but never ventured much beyond it to achieve national recognition. By the time the rock era got started, regionalism had faded somewhat in the U.S., but the modern period has still had its share of rockers who became local heroes yet somehow never went nationwide. Arrogance, from the Piedmont area of North Carolina, must be counted one such rock & roll territory band. It's not that they didn't try to achieve stardom beyond their natural stomping grounds. But timing was against them. The group was a tuneful outfit influenced by
the Beatles
and
the Byrds
who came along just after the period when they might have made a splash as a "folk-rock" or "garage rock" group and lasted until just before they might have been equally successful as an "alternative" band. Indeed, former member
Don Dixon
, who took to producing acts like R.E.M. just as Arrogance finally gave up the struggle, was one of the architects of the alternative trend of the '80s. But anyone who saw Arrogance play in North Carolina or Virginia between the late '60s and early '80s will tell you that they are one of the great lost bands of rock & roll.
Singer/guitarists Dixon and Robert Kirkland formed Arrogance in the fall of 1969 when they were both freshmen at the University of North Carolina at Chapel Hill, adding keyboard player Marty Stout and drummer Scott Davison. The boastful name, coined by Dixon, referred to their ability to upstage other acts and their early hard rock style. By the time of their self-released debut album, Give Us a Break, in 1973, however, Arrogance had adopted a softer folk-rock style. They also recorded a second album on their own, 1975's Prolepsis. At a time when bands wanting to make it usually moved to New York or Los Angeles and looked for a major-label deal, Arrogance's strategy of building a regional following and issuing its own records was both unusual and forward-looking. It was also, well, arrogant. But eventually, it brought national labels to Chapel Hill, and the band signed to Vanguard Records in late 1975. Unfortunately, Vanguard, a New York independent with a roster of folk performers, was not equipped to launch a new rock band properly, and 1976's Rumors did not attract much attention. (Of course, it didn't help that, early the following year,
Fleetwood Mac
released a multi-platinum album using the English spelling of the same title, Rumours.)
Arrogance parted with Vanguard after that one album and returned to a harder rocking style, adding lead guitarist Rod Abernethy to beef up their sound. Having failed on a national level, however, they had to overcome industry skepticism, and it was not until 1980 that they were signed again, this time to Curb/Warner, which released their fourth album, Suddenly. By then, post-punk power pop was all the rage, and Arrogance was not a priority at the label. The album failed, but Curb/Warner was willing to put out a second record. Arrogance, however, decided to leave and shop around for another deal. Once again, their timing was off. With synth pop coming in, no label was interested in a band that sounded like the jangle pop of the mid-'60s. The independent Moonlight Records put out a live collection, Lively, in 1981, but no one else wanted to know. Fearing that, as two-time losers, they were being held back by their tarnished name, Arrogance sent out a set of demos under the name 5'11" (the average height of the bandmembers), but still no one bit. In October 1983, they finally gave up and split the band. By that time, Dixon had already launched a career in the recording studio by co-producing R.E.M.'s debut album Murmur. Over the years, he would handle the board for such like-minded artists as
Richard Barone
,
Kim Carnes
,
the Connells
,
Marshall Crenshaw
,
Guadalcanal Diary
, Hootie & the Blowfish,
In Tua Nua
,
Marti Jones
,
Tommy Keene
, Let's Active,
James McMurtry
,
the Reivers
,
the Smithereens
,
Chris Stamey
, and
Matthew Sweet
, among many others, while putting out the occasional solo album, sometimes including songs written in his Arrogance days. (Half a dozen of the 5'11" demos turned up on his solo debut, Most of the Girls Like to Dance But Only Some of the Boys Do in 1985.) Kirkland also went solo, but when he was able to get his album Kick the Future released only in Europe, he began to question whether music should be his career. Eventually, he went into the business of designing and selling kitchen cabinets. Abernethy played in several bands after Arrogance and then continued to work in music as a session musician for commercials. Davison went into real estate and Stout became an accountant. Meanwhile, other bands came up that sounded a lot like Arrogance; many old fans swore when they first heard it on the radio that
Fastball
's 1998 hit "The Way" was by their long-gone favorite band.
In the spring of 2000, Arrogance reunited for two shows at Dixon's instigation. In May, the band played its folk-rock repertoire at the Carrboro, NC Arts Center, and in June, it played a harder rocking set at the North Carolina Museum of Art in Raleigh. In August 2002, Gaff Music belatedly released the band's early-'80s demo tape under the title The 5'11" Record. ~ William Ruhlmann
full bio
Selected Discography
Similar Artists
Don't have a Pandora account? Sign up
Already have a Pandora account? Log In