We created Pandora to put the Music Genome Project directly in your hands
It's a new kind of radio –
stations that play only music you like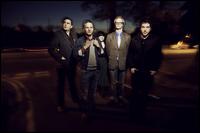 People who also like this
Named after French painter Jean Debuffet's definition of outsider art -- art by prisoners, loners, the mentally ill, and other marginalized people, and made without thought to imitation or presentation -- South London's Art Brut make brilliantly simple, cleverly stupid art-punk. Tagged by NME as part of the "Art Wave" scene that also includes bands such as
Franz Ferdinand
and
Bloc Party
, as well as other bands from Art Brut's New Cross locale, the group is comprised of singer (and
Top of the Pops
fan) Eddie Argos, guitarists Chris Chinchilla and Ian Catskilkin, bassist Frederica Feedback, and drummer Mikey Breyer. The bandmembers allege that they began writing songs five minutes after they formed, including their single Formed a Band, which featured lyrics like "I wanna be the boy/The man that writes the song/That makes Israel and Palestine/Get along."
Art Brut recorded a demo, Brutlegs, that attracted the attention of Rough Trade, which signed the band and then released Formed a Band in spring 2004. Around the time of the single's release, the band played a string of dates, including a set at the Rock Against Racism show; a gig supporting
the Libertines
'
Pete Doherty
's side project
Wolfman & Pete
; and dates with up-and-coming bands such as
the Fades
and Abdoujaparov, the latest project from Fruitbat of British indie stalwarts
Carter the Unstoppable Sex Machine
. Art Brut released another volume of Brutlegs later that spring and continued to play selected dates throughout the summer and fall. Late in 2004, the Modern Art single arrived; in spring 2005, Art Brut were back on tour again and released the Emily Kane single just before their full-length debut,
Bang Bang Rock & Roll
, was issued that summer. The album earned a lot of critical acclaim from both the U.K. and the U.S., and the band made it across the pond to the States in fall 2005, coinciding with the release of
Bang Bang Rock & Roll
's fourth single, Good Weekend.
Around that time, Chinchilla departed the band to be replaced by guitarist Jasper Future. The revamped Art Brut embarked on a series of European and U.K. dates in late 2005 and early 2006, returning to the U.S. in support of the stateside release of
Bang Bang Rock & Roll
. The band moved to Mute for its U.K. label and worked with producer Dan Swift on its second album, 2007's
It's a Bit Complicated
. After touring the world in support of that album, the band went to Portland, Oregon, in late 2008 to record songs with former
Pixie
Frank Black
as producer. The sessions took just two weeks, and Art Brut's third album, the fittingly raw Art Brut vs. Satan, was released in spring 2009. The following year, Art Brut went back into the studio with
Frank Black
and began work on their fourth album,
Brilliant! Tragic!
, which arrived in 2011. Two years later, the band's first retrospective,
Top of the Pops
, was released and featured B-sides, demos, and rarities, including a version of
the Beatles
' "Her Majesty" arranged by Black Francis. ~ Heather Phares, Rovi
full bio
Selected Discography
Similar Artists