Free personalized radio that
plays the music you love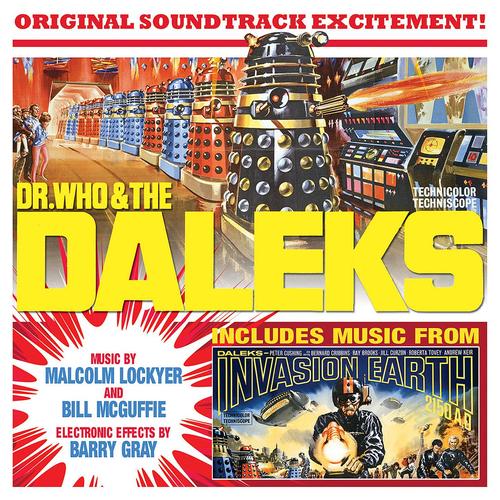 People who also like this
The name Barry Gray may not mean much to the population at large, but a mention of some of the television series that he scored -- Fireball XL5, Supercar, Stingray, Captain Scarlet and the Mysterons, Thunderbirds, UFO, Space: 1999 -- will evoke instant recognition for those of a certain age (whether baby boomers or beyond). Although he was engaged in the writing of music for all manner of television programs and even a few feature films scattered between them, Gray inadvertently provided the "soundtrack" for the childhood entertainment of millions of viewers around the world during the 1960s and 1970s.
Gray was born in Lancashire, England, early in the 20th century and proved a natural musician at a young age. He later studied at the Royal Manchester College of Music and at Blackburn Cathedral and took up the study of composition with Hungarian composer Matyas Sieber. He began his music career writing arrangements for Feldman publishers in London, principally of theater music, and subsequently joined Radio Normandy in the 1930s. Gray's musical career was interrupted by six years of service in the Royal Air Force during World War II, which took him to Africa, India, and Burma. After the war, he returned to London, where he made a living writing and arranging music for various performers and publishers on a freelance basis, working in the music department at Denham Studios and composing and orchestrating music for the radio. Gray's abilities as an arranger and orchestrator soon became known to the top visiting talent of the day and he was engaged by such figures as
Eartha Kitt
and
Hoagy Carmichael
and beginning in 1949, he also served as the accompanist and arranger for
Vera Lynn
, on stage as well as on her television and radio appearances.
In 1956, Gray joined a tiny, struggling television production company called AP Films Ltd., founded by Gerry Anderson, which managed to attract some attention and enough revenue to survive with a program called The Adventures of Twizzle. That late '50s British television series was special for being populated on screen entirely by marionettes and for the next decade, AP Films -- which later became Century 21 -- specialized in series built around marionettes, all scored by Barry Gray.
Ironically, Gray's involvement with Anderson came about as a result of his work with
Vera Lynn
. The singer had recorded several songs written by Roberta Leigh, the author and lyricist, who had created The Adventures of Twizzle -- one of her stipulations in allowing Anderson to produce the series was that Barry Gray be the music director for the program, but that the program use a group of musical themes that a non-musician friend of hers had devised; Gray was obliged to make a tape of this man's humming and transform that into a full score. He did precisely that, orchestrating and arranging those crudely worked out themes into a finished soundtrack that impressed Anderson sufficiently to keep working with Gray for 20 years after that introduction. His work orchestrating Leigh's own music for another series, Torchy the Battery Boy, later in the 1950s, only sealed their professional relationship.
As with most composers involved in modestly budgeted work -- which the early productions were -- Gray recognized that carrying the series past the limitations of their budgets was a responsibility that would rest largely with him. His own favorite composers were Bach, Mozart, and Beethoven, but he also admitted to being heavily influenced by Maurice Ravel and Claude Debussy and spent a lot of time poring over Rimsky-Korsakov's and Berlioz's writings on orchestration. He had a chance to write his own "book", in effect, when he went to work for Anderson.
The introduction of magnetic recording tape at the end of the 1940s had opened up possibilities in the art and science of recording that Barry Gray saw, perhaps better than any arranger/composer in England. In 1950, he had established his own studio in London to experiment with different methods of recording. He'd used it for recording commercials and some of Vera Lynn's work and the early Anderson series were a new addition and extension to its activities. In 1959, after adding yet another program to their output, Anderson and Gray collaborated on the production and scoring of a true rarity in those days, a television feature film called Crossroads to Crime. Gray's music proved essential to the success of Anderson's subsequent series. He'd always had a fascination with the timbral qualities of various instruments, the more exotic the better, and the ways of recording them to maximum effect; at the end of the 1950s, he used what budget he had on the Anderson television shows to extend the range of available sounds into electronic instruments, particularly the Ondes Martenot (whose sound is perhaps most familiar to movie music enthusiasts in Richard Rodney Bennett's score for the movie Billion Dollar Brain) and the Miller Spinetta. These were the closest that the music world had at the time to the Moog, the Mellotron, and other electronic instruments that would become commonplace at the other end of the decade.
And they were a natural for the scoring of Anderson's new series, Supercar, about a machine that could fly through the air or travel under the sea, and the adventures of its pilot and his friends -- all done, as were the producer's prior programs, with marionettes. Supercar, produced in 1959, was Gray's first major musical triumph and the first of the Anderson-produced series to make an international impact, proving extremely popular with younger viewers in America as well as England. The marionette work, prop designs, and special effects were exceptional for children's television of the period, but the music -- ornamented with unusual electronic sounds and highlighted by a title-track with a driving beat -- made it especially difficult to resist. The next series, Fireball XL5, was even better, more adult-oriented (from a young person's point-of-view) and set largely in outer space. Gray went even further in his scoring, making the electronic sounds even more prominent around a central theme that managed to be both exciting and romantic. Listening to Gray's music from this period, he was almost the soundtrack composer equivalent of
Joe Meek
, without the mental instability or the shaky budgets. One tribute to Gray's work as a composer was the fact that Meek -- who seems to have taken several pages out of Gray's book -- had his group the Tornados record versions of some of his music.
Anderson's series Stingray, which was made in 1963 and set under the water, was also the first of the producer's program to be done in color and featured better production values than its predecessors; Gray was able to work with a 38-piece orchestra, up from 24 members, and the writing for the horns and percussion reveled in the larger forces available. By this time, Gray had also come to the attention of the British film industry and during the mid-'60s, he provided electronic music for the feature film Dr. Who and the Daleks, starring Peter Cushing, based on the hit British television series and such science fiction and horror films of the mid-'60s as Fahrenheit 451 and Island of Terror.
Meanwhile, the next Anderson series, Thunderbirds, about a family-run futuristic rescue organization that operated on land, in the air, underwater, and in space, proved a huge success and afforded Gray and all concerned a bigger canvas still to fill. The music, especially its rousing march, now seemed bigger-than-life, or at least bigger than the television format could hold -- that was borne out with the release of the United Artists feature Thunderbirds Are Go; the movie is pretty impressive on visual terms, but anyone who has ever seen it in a theater will confirm that the scoring, for an orchestra of 70 players, practically makes it a Barry Gray concert accompanied by a film.
Gray's music for the series Captain Scarlet and the Mysterons marked a departure. The title song, which appeared over the end credits, was a superb rock tune sung by an actual band, the Spectrum, but in keeping with the serious and morbid tone of the series -- in which characters are inevitably killed (for that is how the Mysterons move around the Earth, reanimating corpses) -- the music was as dark as most of Gray's work on prior series had been upbeat and exuberant. He subsequently wrote the music for the live-action Anderson production UFO, as well as the feature film Journey to the Far Side of the Sun, which showed considerable inspiration and had a distinctive, futuristic sound, in keeping with their settings, as well as great depth in their scoring. By this time, he was using synthesizers, electric organs, and electric harpsichords, and still generating a unique range of sounds more than a decade after he'd started.
In 1974, Gray created the last of his scores, when he wrote the music for the first season of Anderson's live-action science fiction series Space: 1999. By the middle of the decade, he had moved to Guernsey, an island in the English Channel, and was no longer scoring new television shows or films. He re-emerged at the end of the decade, however, when he was invited to conduct newly arranged orchestral suites from two of his favorite scores, Thunderbirds and Journey to the Far Side of the Sun. This led to his occasional appearances as a guest conductor at film music concert presentations and conventions of science fiction enthusiasts devoted to the various Anderson series and to his writing of new score material for video recompilations of the Anderson children's series from the 1960s. Barry Gray passed away in 1984, but his music has since become an object of fascination from adult baby boomers, nostalgia buffs, and science fiction enthusiasts. Period recordings of his music on the Pye Records label have resurfaced on a CD reissue of the compilation No Strings and in 1992, Silva Screen Records released FAB, a new recording of Gray's music by the Royal Philharmonic Orchestra. ~ Bruce Eder
full bio
Selected Discography
x

Track List:
Dr. Who And The Daleks / Daleks Invasion Earth 2150 Ad (Original Soundtrack)
Similar Artists
Don't have a Pandora account? Sign up
Already have a Pandora account? Log In