We created Pandora to put the Music Genome Project directly in your hands
It's a new kind of radio –
stations that play only music you like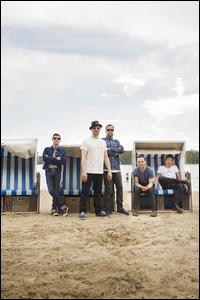 People who also like this
The Beatsteaks formed in 1995 in their native Germany playing local shows at food festivals, and by the end of that summer, the punk-popsters were recording a demo, Die Erste ("The First") which went on to sell more than 1000 copies. Still only in high school during this time, the Beatsteaks steered straight for their musical dreams, constantly participating in area competitions and talent shows. In 1996, the band won a competition that led them to open for the
Sex Pistols
in Berlin, in what was only their tenth gig ever. The latter '90s were also spent recording and touring; in 1997 their debut album proper, 48/49, was released, and a spring tour followed, as well as support dates with
Lagwagon
,
Bloodhound Gang
, Dog Eat Dog, and
Faith No More
. By 1999, the band had inked a deal with Epitaph and recorded their international debut, Launched, with Uwe Sabirowski (
Mad Sin
,
Thumb
). Unlike 48/49, it, and their subsequent albums were written entirely in English. The following year found them on the road, but by the end of 2001 they had settled down and were ready to step back into the studio. The result, 2002's
Living Targets
, was more melodic and aggressive than previous releases.
The following year, a shout-out from one of Germany's most popular bands,
Die Ärzte
, on their song "Unrockbar," brought the Beatsteaks increased attention, and their big breakthrough came in 2004 with their fourth album Smack Smash, which won them the MTV European Music Award for Best German Act. As the band became more successful, more of their time was devoted to touring, meaning longer waits between albums. The fruits of these many arena shows were released in 2008 as a live album, Kanonen auf Spatzen ("Cannons on Sparrows," a German idiom analogous to "using a sledgehammer to crack a nut"). Their fifth studio album, Limbo Messiah, dropped in 2007, and their sixth,
Boombox
, in 2011. That year their song "House on Fire" was included on the soundtrack of the third Transformers film Dark of the Moon, further increasing their visibility across Europe. In 2013, the Beatsteaks released the ambitous live collection Muffensausen which featured performances culled from their
Boombox
tour along with two discs of unreleased bonus material. ~ MacKenzie Wilson & John D. Buchanan, Rovi
full bio
Similar Artists