Free personalized radio that
plays the music you love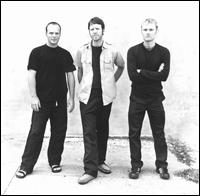 People who also like this
With a steady base as one-third of the renowned experimental jazz trio Medeski, Martin, & Wood, drummer Billy Martin has become one of the most forward-thinking, innovative, and influential percussionists in the music world. His ultra-sensitive, hyper-melodic drumming -- which explores the ideas of jazz, hip-hop, electronica, African music, and other genres -- has an organic feel to it, filled with soft, natural edges and fluid energies.
Born in New York City in 1963, Martin was raised in a wholly musical household. His father, a classical violinist, and his mother, a Radio City Music Hall Rockette, encouraged the young Martin in his creative pursuits, though it wasn't until the family moved to suburban New Jersey in 1973 that Martin took up the drums, commandeering his older brother's kit. In the next years, Martin holed himself up in the basement, beginning to learn his instrument, as well as playing in the usual smattering of high school rock bands. During his senior year in high school, Martin began attending classes at the Manhattan School of Music in preparation for his impending enrollment.
In 1981, Martin moved back to Manhattan and soon immersed himself in its musical world. Joining the musician's union, Martin quickly found himself behind the percussion kit for a variety of gigs. At the Drummers' Collective, Martin first encountered master percussionist
Bob Moses
, who would soon become his mentor. There, Martin would begin to expand his musical horizons into bold new areas.
Over the next decade, Martin would make a name for himself in New York's downtown jazz scene, playing, touring, and recording regularly in a variety of ensembles, including
John Lurie
's Lounge Lizards, Brazilian outfit Pe De Moi, samba group Batucada (co-founded with Manuel Montiero),
John Zorn
's Cobra, and others, including
Chuck Mangione
,
Bobby Previte
, and Ned Rothenberg. Through
Moses
-- with whom he recorded on
Moses
' duet album, Drumming Birds -- he was introduced to bassist Chris Wood and organist
John Medeski
. The duo invited Martin to join them on a regular gig at the Village Gate. Thus, Medeski, Martin, & Wood was born.
In the next years, Martin would balance his work with
MMW
with his other regular gigs. As
MMW
gained momentum, though, they logically began to take precedence. Martin acted as the band's first manager, sending out press kits and recordings to clubs from his father's office in New Jersey (as well as serving as
MMW
's de facto mechanic on the road).
The trio built up a following through constant gigging and the recording of several groundbreaking records, including 1991's self-released Notes from the Underground, 1993's It's a Jungle in Here, 1995's Friday Afternoon in the Universe, and 1996's Shack-Man (all on Gramavision). By then, the band had earned its distinct place in the elite: boldly avant-garde, but also remarkably danceable. High-profile gigs opening for
Phish
only bolstered their reputation as a raging outfit.
In 1998, Martin established his own Amulet Records imprint, where he released recordings of himself and Calvin Weston, as well as experimental discs, such as the breakbeat vinyl-only release of illy B Eats and the solo percussion disc Black Elk Speaks (both in 2001). Martin continues to tour and record with
MMW
, also finding time to curate shows in Manhattan, as well as be with his wife, Phaedra, and his child, born in the summer of 2001. Martin continued his membership in MMW, but also released more than a handful of solo offerings on his label, in various personnel settings, live and in the studio. In addition, Tzadik issued his beautiful Starlings album in 2005, a collection of pieces for chamber music and percussion. In 2012, Royal Potato Factory released Shimmy, a duet album with keyboardist
Wil Blades
. ~ Jesse Jarnow
full bio
Selected Discography
Similar Artists
Don't have a Pandora account? Sign up
Already have a Pandora account? Log In