Free personalized radio that
plays the music you love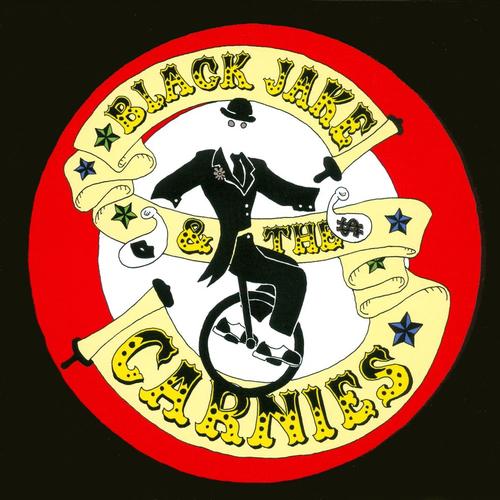 People who also like this
Black Jake and the Carnies
The first conception of Black Jake & the Carnies arrived on Halloween night in 2002, though it would take Black Jake years of tinkering with sound and lineup before the band was to discover its distinctive "crabgrass" sound. Led by Jake Zettelmaier on vocals and banjo, his Carnies are Gus Wallace (the sole surviving Carnie from the initial Halloween gig) on fiddle, "Jumpin'" Joe Cooter on bass, Zach Pollock on mandolin, J.C. Miller on accordion, and Billy "Kingpin" Lalonde on drums and washboard. Pollock, Miller, and Lalonde also offer backing vocals and various hoots, hollers, and shouts.
Black Jake & the Carnies hail from Ypsilanti, Michigan, and blend their interesting collection of instruments into an uptempo sound, drawing from punk, Americana, ragtime, blues, and even circus-themed music to create what they've dubbed "crabgrass," which isn't quite alternative bluegrass on speed, but isn't too far off either. Perhaps the band's closest musical sibling would be
the Pogues
in their heyday. There are obvious similarities instrument-wise, but also in terms of mixing punk (both music and attitude) with a more traditional sound and the sheer energy behind their performances. While the band's music, a combination of Jake's smartly penned originals along with the odd '80s pop cover, certainly stands on its own, Black Jake & the Carnies' stage performances combine audience-participation carnival games, periodic spinning of a wheel of fortune/misfortune, some pretty outrageous costumes, and enough raw energy to jump-start a Volkswagen. Jake's banjo is even adorned with colored blinking lights. Yes, this is a band that knows how to have a good time and has fun doing so.
Black Jake & the Carnies' debut album, Where the Heather Don't Grow, was released on April Fool's Day in 2008 and features a collection of dark lyrics about oddball characters surrounded by upbeat, foot-stomping music. Black Jake sings as fast and loose as an auctioneer and the Carnies play like a steamroller behind him. There's even an Easter-themed song (a rarity among holiday tunes) titled "A Happy Easter to Ya." Lalonde's drums were added after the original recording and Miller joined the band after the album's release, but
Timothy Monger
of
Great Lakes Myth Society
supplied some accordion for the record. Several Carnies who played on the debut left the band thereafter: B.P. Weatherwax, Caleb Lee Johnson, Brother Joe, and Mathew B. Young (while Chris Westhoff played guitar with the band for a period afterward). The follow-up, Sundry Mayhems, released midway through 2011, follows much the same formula, but with the entire band present, a more focused audience in mind, and a much higher overall level of production (the former was recorded in a living room, while the latter was recorded in a studio and then professionally mixed). There are still plenty of surprises, however, starting with the whirlwind country-trip instrumental title track. ~ Chris Berggren
full bio
Similar Artists
Don't have a Pandora account? Sign up
Already have a Pandora account? Log In