We created Pandora to put the Music Genome Project directly in your hands
It's a new kind of radio –
stations that play only music you like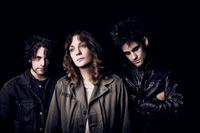 People who also like this
Black Rebel Motorcycle Club
The seed that became Black Rebel Motorcycle Club -- or BRMC for short -- was planted in 1995, when
Robert Levon Been
(aka Robert Turner) and Peter Hayes met while attending high school in San Francisco. The two formed a solid friendship and a shared camaraderie based on a mutual love of early-'90s U.K. bands like
Ride
,
the Stone Roses
,
the Jesus and Mary Chain
, and
My Bloody Valentine
. Despite such similar tastes, both joined different bands -- Hayes spent time in
the Brian Jonestown Massacre
circa Give It Back! -- and worked apart for several years, although they occasionally kept in touch by attending each other's gigs. In 1998, however, Turner and Hayes regrouped and added British drummer Nick Jago to the fold. The band began performing live in November 1998 as "the Elements," a name they quickly ditched after discovering many other bands that shared the same title. They purloined their new moniker from the Marlon Brando-led biker gang that stormed into that dusty California hamlet in The Wild One.
By 1999, BRMC had recorded a polished, 16-track demo CD and relocated to Los Angeles. The Santa Monica-based radio station KCRW jumped on the band's demo first, giving them their initial airplay, but interest in the band eventually spread across the Atlantic, where BBC Sheffield named the demo their "Record of the Week."
Oasis
'
Noel Gallagher
even expressed interest in signing the band to his new Brother Records imprint, telling MOJO magazine that they were his favorite new group. After inking a lucrative Warner/Chappell publishing deal, however, Black Rebel Motorcycle Club began fielding offers from several labels, and they ultimately chose to sign with Virgin Records in March 2000.
Following a short U.S. tour with
the Dandy Warhols
, the band entered the recording studio and eventually emerged with a self-titled debut, B.R.M.C., which was released in March 2001. Two years later, the trio returned with a slicker edge and a new album, Take Them on, on Your Own, which peaked at number three on the U.K. charts. They severed ties with Virgin Records eight months later. A deal with RCA surfaced within months, and the acoustic, Americana-influenced Howl arrived in August 2005. The band moved back to the loud rock & roll approach favored on their first two albums with 2007's Baby 81, and the resulting tour was documented by the band's first concert DVD, LIVE, in 2009.
Nick Jago left the band after Baby 81's release, ostensibly to focus on his solo career. With
the Raveonettes
' touring percussionist, Leah Shapiro, now handling drum duties, BRMC decided to change their direction once again, this time embracing electronica and ambient noise on The Effects of 333. Independently released via the band's own label, The Effects of 333 failed to gain either commercial or critical acclaim, and BRMC chose to partner with Vagrant Records for the release of their next album, 2010's Beat the Devil's Tattoo. While touring that album, the band lost their engineer and Been's father, Michael Been (the leader of '80s alternative heroes
the Call
), who died of a heart attack backstage after a show in Belgium. They toured throughout 2012 and 2013, then announced their seventh album Specter at the Feast in early 2013. Fittingly, they covered
the Call
for their first single, "Let the Day Begin," and Been also joined
the Call
for a string of concerts, standing in for his late father. ~ Bryan Thomas
full bio
Selected Discography
Similar Artists