We created Pandora to put the Music Genome Project directly in your hands
It's a new kind of radio –
stations that play only music you like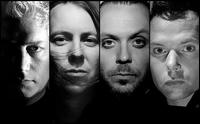 People who also like this
The Texas quintet Blue October formed during the post-grunge boom of the mid-'90s when vocalist/guitarist
Justin Furstenfeld
began penning angst-ridden rock songs with the help of his brother, drummer Jeremy Furstenfeld, and violinist Ryan Delahoussaye. Bassist Liz Mullaly and lead guitarist Brant Coulter completed the band's initial lineup, and Blue October released an independent debut album,
The Answers
, in 1998. The band's emotive brand of post-grunge led to the sale of 5,000 copies in their native Houston alone. Two years later, Blue October made their major-label debut on Universal with
Consent to Treatment
with Matt Noveskey replacing Mullaly.
By the time Blue October began prepping for their third album, 2003's
History for Sale
, guitarist Coulter had left the group and CB Hudson (guitar/vocals) had been added. The band itself had also left Universal for Brando Records. The album's first single, "Calling You," became a Top 40 hit thanks to its inclusion on the American Wedding soundtrack, and Universal re-signed the band in the wake of such newfound success. The live CD/DVD package
Argue with a Tree
was released in February 2005, following 18 months of touring. Noveskey briefly left the band shortly thereafter, but returned in time to record Blue October's first studio album in three years,
Foiled
, which was issued in April 2006 and went platinum one year later.
Before the band went on tour with
Yellowcard
in September 2007, Universal/Motown released
Foiled for the Last Time
, a two-disc set consisting of a full version of
Foiled
, 14 newly recorded songs performed live, and several alternative remixes. Recording sessions for another studio album,
Approaching Normal
, commenced in mid-2008 with producer Steve Lillywhite, and the finished product appeared early the following year. The tour in support of the album was cut short due to the eventually openly discussed mental health issues of their frontman. They returned with two albums in 2011, Ugly Side: An Acoustic Evening with Blue October (recorded live in Austin, Dallas, and Houston) and the darker
Any Man in America
, made during
Justin Furstenfeld
's divorce and loss of child custodial rights. After his seeking treatment including rehab, the group's seventh studio album, the PledgeMusic-funded
Sway
, followed in 2013. In 2014, Furstenfeld recorded and released a solo voice-and-guitar live album titled Songs from an Open Book, which included stage banter about his personal struggles. ~ MacKenzie Wilson, Rovi
full bio
Selected Discography
Similar Artists