Free personalized radio that
plays the music you love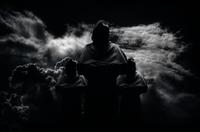 People who also like this
Although not well known in the United States, the French black metal/alternative metal band Blut Aus Nord have enjoyed a small underground cult following in Western Europe since the mid-'90s. Blut Aus Nord, unlike many bands in the European death metal/black metal scene, do not govern by brute force alone; while they can be loud, dissonant, intense, and forceful, they are also moody, darkly haunting, and relatively melodic. Atmospherics are quite important to Blut Aus Nord, who thrive on an eerie, gloomy sort of ambience. Blut Aus Nord bring an interesting variety of influences to their work -- some metal, some industrial, some goth. The band has frequently been compared to
Neurosis
, and other influences (either direct or indirect) range from
Cradle of Filth
and
Godflesh
to
Ministry
,
Nine Inch Nails
,
Killing Joke
, and the infamous
Slayer
(whose innovations have affected just about every death metal or black metal band imaginable in some way or another). Blut Aus Nord were never a goth rock band in the strict sense; however, the dusky, shadowy elements in their black metal and alternative metal do show some awareness of goth icons like
Bauhaus
and
the Sisters of Mercy
.
Blut Aus Nord are the creation of Vindsval, a singer/guitarist who got the ball rolling in Mondeville, France in 1993. At first, Vindsval's creation was known as Vlad -- as in Vlad the Impaler -- and for a few years Vindsval had more of a project than an actual band. Thanks to technology and a thing called overdubbing, Vindsval was able to record two demos by himself as Vlad (In the Mist in 1993 and Yggdrasil in 1994) and function as a "one-man band" in the studio. After about a year, Vindsval changed his project's name from Vlad to Blut Aus Nord -- and when labels started showing some interest, Vindsval began to employ some other musicians, and gradually turned his project into an actual band. After working with various session players on Blut Aus Nord's albums, Vindsval ended up with a regular lineup that consisted of himself on lead vocals and guitar, Ghost on bass, and W.D. Feld on drums and keyboards.
Ultima Thulle, Blut Aus Nord's first official full-length album, was released in 1995 on Impure Creation Records (a small French label that later changed its name to Velvet Music International). Subsequent European releases included Memoria Vetusta I: Fathers of the Icy Age (which came out in 1996 on the ICR label) and 2002's The Mystical Beast of Rebellion. None of those '90s or early-2000s discs were released in the United States -- they were only sold in North American stores as imports -- but in 2004, Blut Aus Nord finally enjoyed some North American distribution when The Work Which Transforms God (which had come out in Europe in 2003) was released in the U.S. by Candlelight (a British label with an office in the Philadelphia suburbs).
Due to critical and commercial success (relative to black metal, of course), Blut Aus Nord's back catalog was reissued in the United States in 2004 and 2005. Their new material, beginning with 2005's Thematic Emanation of Archetypal Multiplicity mini-album, became increasingly experimental, relying on layers of textured, industrial, and ambient sounds, as well as a more open musical environment. Indeed, 2006's MoRT was considered -- even by many fans -- to leave the realm of black metal entirely and become alternative with its elongated dissonant tones, shimmering backdrops, murky vocals, and deliberate absence of blastbeats. While the album was heralded by many for its innovation, it was considered too far off the beaten path for some.
They furthered their experimental reputation with the decidedly heavier Odinist: The Destruction of Reason by Illumination, in 2007 and 2008's near-progressive Dialogue with the Stars. In 2009, the band re-released Dialogue as a double-disc package with a brand-new record, a follow-up of sorts to Memoria Vetusta I, simply entitled Memoria Vetusta II. Listening to both recordings, it's easy to hear that Blut Aus Nord had created a new, all but trademarked form of extreme avant-rock.
The band began to issue a series of experimental EPs in their "existential series" that was scheduled to run parallel to their main body of work. The first one, What Once Was... Liber I, initially appeared as a limited edition in 2010. The idea was taken to the next level with a trilogy of album-length recordings set around the number 777. The pummeling 777 Sect(s) (allegedly the long-rumored sequel to The Work Which Transforms God) was issued in April of 2011, followed in November by 777: The Desanctification, a much more atmospheric and ambient -- yet no less blackened -- entry in that album series of November of that year. What Once Was...Liber II appeared in the spring of 2012, as did 777: Cosmosophy, the final chapter of that album series, in October of 2012. The next entry in the EP series, What Once Was...Liber III, was issued in November of 2013, as were the reissues of its first two volumes. As a next step, the group issued Triunity in June of 2014, a split with French industrial doom metallers P.H.O.B.O.S. In October, Vetusta III: Saturnian Poetry was released on Debemur Morti. The following year saw two separate retrospective volumes called The Candlelight Years. Codex Obscura Nomina, a split album with American blackened death metal band Ævangelist appeared in the early summer of 2016. BAN's half featured a four-track suite entitled "Sonic Waves (The Sound Is an Organic Matter)." ~ Alex Henderson & Thom Jurek
full bio
Selected Discography
Similar Artists
Don't have a Pandora account? Sign up
Already have a Pandora account? Log In