Free personalized radio that
plays the music you love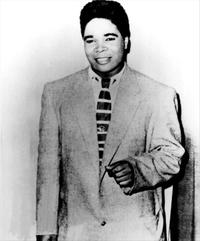 People who also like this
A larger-than-life performer best remembered for his 1960 R&B chart-topper "There Is Something on Your Mind," singer Bobby Marchan was born Oscar James Gibson in Youngstown, OH, on April 30, 1930. As a child he became fascinated by the female impersonators who appeared on the so-called "chitlin circuit" of black nightclubs, and began singing and performing comedy in drag while in his teens. In 1953 Marchan organized his own drag troupe, the Powder Box Revue; during a booking at New Orleans' Dew Drop Inn, he became enamored with the city, making it his home for the remainder of his life. There he accepted a job as MC at the Club Tijuana, where he was discovered by Aladdin Records president Eddie Meisner. Marchan cut his debut single, "Have Mercy," for producer Cosimo Matassa in 1954, but Aladdin dropped him soon after, and he landed at Dot for the follow-up, "Just a Little Ol' Wine."
He then signed to Ace after label head Johnny Vincent caught his drag show, offering Marchan a contract in the mistaken belief he was a woman; 1955's "Give a Helping Hand" appeared under the alias Bobby Fields, with the Marchan surname restored for his next effort, the regional smash "Chickee Wah-Wah." In 1957 he joined Huey "Piano" Smith as the original lead vocalist with
Smith
's legendary band the Clowns -- in addition to appearing on classics including "Rockin' Pneumonia and the Boogie-Woogie Flu," "Don't You Just Know It," "You Don't Know Yockomo," and "Havin' a Good Time" (not to mention popularizing the
Smith
composition "Sea Cruise," a hit on wax for singer
Frankie Ford
), Marchan also continued his solo career, issuing "I'll Never Let You Go." He left the Clowns in early 1959, issuing his final Ace single, "Rockin' Behind the Iron Curtain," later that same year. He then returned to the road and resumed his drag career, signing to Fire Records to issue "Snoopin' and Accusin'."
With 1960's reading of the
Big Jay McNeely
song "There Is Something on Your Mind," Marchan finally scored the solo hit that had for so long eluded him, reaching number one on the R&B charts. A series of Fire singles followed in rapid succession, among them "Booty Green," "All in My Mind," "What You Don't Know Won't Hurt You," and "Yes, It's Written All Over Your Face," but none earned much attention on the national charts. On the recommendation of
Otis Redding
he was signed to Stax Records in 1963, adopting a more contemporary soul approach and making his label debut with "What Can I Do." Within a year Marchan was recording for yet another label, Dial, cutting "Get Down With It," a hit for British glam icons
Slade
in 1971. He spent much of the mid-'60s recording for Cameo, debuting in 1966 with "There's Something About You, Baby" and returning to the R&B Top 20 with the follow-up, "Shake Your Tambourine."
Subsequent efforts, including 1967's "Meet Me in Church" and "You Better Hold On," received scant attention, however, and after 1968's "(Ain't No Reason) For Girls to Be Lonely" -- a one-shot for Gamble -- Marchan spent nearly a decade without a record deal, returning to his drag roots yet again. By 1977 he was installed as the MC at New Orleans' Club Alhambra, resurfacing that same year on Mercury with "I Wanna Bump With the Big Fat Woman," soon followed by another novelty effort, "Disco Rabbit." Around 1983 Marchan founded his own production company, Manicure, to scout and promote up-and-coming hip-hop acts. In 1987 he recorded his final single, an updated version of "There Is Something on Your Mind," and later helped found the Cash Money label. After a long battle with liver cancer, he died December 5, 1999, at the age of 69. ~ Jason Ankeny
full bio
Selected Discography
x
Track List:
There Is Something On Your Mind (Digitally Remastered) (Single)
Similar Artists
Don't have a Pandora account? Sign up
Already have a Pandora account? Log In