Free personalized radio that
plays the music you love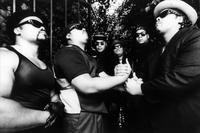 People who also like this
Originally composed of six Samoan-descended brothers from Los Angeles, the Boo-Yaa T.R.I.B.E. offered a distinctly authentic brand of gangsta rap. Sons of a Baptist minister, the brothers Devoux -- lead rapper Paul aka Ganxsta Ridd, bandleader Ted aka the Godfather, Donald aka Don L, Roscoe aka Rosco, Danny aka O.M.B., and David aka E.K.A. -- grew up in a rough neighborhood, and were drawn into gang culture as a survival tactic, joining up with the Mob Piru Bloods. They all served prison sentences at one time or another on drug and/or weapons charges, but it wasn't until brother Robert Devoux was killed in a shooting that they determined to leave the lifestyle. Quitting cold turkey, all six brothers left Los Angeles and moved to Japan to live with their cousin, a sumo wrestler. There they formed a rap and dance troupe dubbed the Blue City Crew, and performed regularly to enthusiastic response from Japanese audiences.
Encouraged by their success, they returned to Los Angeles in 1988 and began working on original material, issuing a 12" single called "Coming Hard to America" later that year. They re-christened themselves the Boo-Yaa T.R.I.B.E., with the first part of their name taken from a slang term that mimicked the sound of a shotgun (prior to becoming a more general shout of exuberance); the last part, meanwhile, stood for "Too Rough International Boo-Yaa Empire." After a guest appearance on the
Club Nouveau
track "No Friend of Mine," the T.R.I.B.E. signed with Island's 4th & Broadway subsidiary, and released their debut album, New Funky Nation, in 1990. Earning positive attention for its use of live instrumentation, it spawned a minor hit single in "Psyko Funk," and climbed into the Top 40 of the R&B album chart. A second album, Good Times Bad Times, was recorded in 1992, and featured guest appearances by
George Clinton
,
Ice Cube
, and
Living Colour
; however, despite some well-received appearances on that summer's Lollapalooza tour, the record was never released. In 1993, they collaborated with
Faith No More
on "Another Body Murdered," one of the all-star metal/rap teamings on the Judgment Night soundtrack.
Signing with the smaller Bullet Proof label, the group issued two more albums, Doomsday and Occupation Hazardous, in 1994 and 1995, respectively. By this time, three members had adopted new aliases: Danny was Monsta O, Roscoe was Murder One, and Donald was Kobra Konvict (or just Kobra). Searching for a new musical direction, the T.R.I.B.E. formed their own Samoan Mafia label and tried their collective hand at rap-metal on 1997's Angry Samoans, albeit to little attention. Another effort, Mafia Lifestyle, appeared in 2000, with guest spots from
Layzie Bone
,
Yukmouth
, and
Naughty by Nature
's
Treach
, among others. By this time, David Devoux had left the group, and was replaced by Vincent Devoux aka Gawtti. Gawtti landed a small but memorable role in the 2003 film The Italian Job, and the T.R.I.B.E. further increased their visibility by snagging a rare guest appearance from
Eminem
on their subsequent album, West Koasta Nostra; it was released on Sarinjay and produced by Battlecat. Angry Samoans, an all-metal affair, was released three years later. ~ Steve Huey
full bio
Selected Discography
Similar Artists
Don't have a Pandora account? Sign up
Already have a Pandora account? Log In