Free personalized radio that
plays the music you love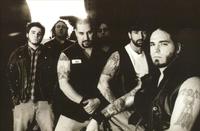 People who also like this
When rock fans think of Syracuse -- one of the cities in upstate New York -- they often think of hardcore punk and the straight-edge movement, which has used punk to promote clean living, vegetarianism, and spirituality. Many straight-edge bands have been avid supporters of the Hare Krishna sect; arguably, straight-edge has often functioned as a Hindu-minded equivalent of Christian rock, although many straight-edge bands have leaned to the left politically and have, in some cases, vehemently lambasted Christian pop and rock artists who supported the Republican Party.
Despite Syracuse's reputation as a punk/straight-edge town, not every band that came from that area in the '90s or 2000s had a straight-edge connection. Syracuse metal band Brand New Sin have nothing at all to do with straight-edge; if anything, these rowdy, long-haired, tattooed, decadent, hell-raising headbangers sound like they are rebelling against everything that Syracuse's straight-edge scene has stood for. Kris Wiechmann, one of the band's three guitarists, showed how politically incorrect he could be when he equated Brand New Sin's self-titled debut album with "the first drink an alcoholic takes after walking out of rehab," which isn't exactly the sort of thing a straight-edge vegetarian teetotaler would brag about. Blistering and forceful yet consistently melodic, Brand New Sin have been influenced by a variety of metal and hard rock bands, and those influences range from Motörhead,
Black Sabbath
, and Guns N' Roses to
Pantera
and
Metallica
. There are also traces of
Lynyrd Skynyrd
and Southern rock in the band's material, which has the sort of bluesy, swampy edge that Southern outfits like
Alabama Thunder P**sy
and
Hammerlock
have brought to alternative metal.
Although Brand New Sin have plenty of '70s and '80s influences, they also have enough of a
Corrosion of Conformity
/
Down
influence to avoid sounding flat-out retro, and thus remain relevant to the post-millennial alternative metal scene. However, Brand New Sin don't get into rap-metal at all -- the Syracuse headbangers show no awareness of hip-hop-minded nu metal bands like
Limp Bizkit
,
Korn
,
(hed)pe
,
Rage Against the Machine
, and
Tommy Lee
's
Methods of Mayhem
. In the '90s, some of Brand New Sin's members belonged to a Syracuse band called Godbelow, which favored a metal/punk blend. But when they wanted to do something different -- something with more bluesy, swampy leanings and a Southern influence -- Brand New Sin were born in the early 2000s. While other metal bands had four or five members, Brand New Sin had six thanks to a lineup that consisted of lead singer Joe Altier, bassist Chuck Kahl, drummer Mike Rafferty, and no less than three guitarists: Slider (who also provides background vocals), Kris Wiechmann, and Ken Dunham.
In June 2002, Brand New Sin's self-titled debut album (which Peter Walker produced) was released by the Jersey City, New Jersey-based Now or Never Records. A year later, drummer Kevin Dean was added to the band. Brand New Sin once again joined Walker for the recording of their second album. The Black and Blue EP and the band's sophomore effort, Recipe for Disaster, were both released in 2005. In 2008, Altier left the band to pursue other projects and was briefly replaced by Nine Ball frontman Joe Sweet, who ultimately parted ways with the band in 2009, as did guitarist Dunham. That same year, guitarist Wiechmann took over lead vocal duties and the band released the independently produced album Distilled. In 2011, Brand New Sin returned with its fifth studio effort and second featuring Wiechmann as vocalist, United State on Goomba Music. ~ Alex Henderson
full bio
Selected Discography
Similar Artists
Don't have a Pandora account? Sign up
Already have a Pandora account? Log In