We created Pandora to put the Music Genome Project directly in your hands
It's a new kind of radio –
stations that play only music you like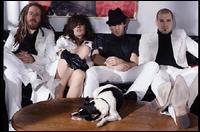 People who also like this
Their music incorporates bits of reggae, electronica, jazz, bossa nova, and you name it, and despite their name, no one in the band is Brazilian. The sexy/quirky/mysterious Brazilian Girls are three men -- Didi Gutman on keyboards and computers, Jesse Murphy on bass, and Aaron Johnston on drums -- and one woman, Sabina Sciubba, the vocalist who often enjoys wearing lacy eye masks on-stage and sings in no less than five different languages. Sciubba was born in Rome but grew up in Nice and Munich before settling in Brooklyn, New York. She first came to record buyers' attention when she recorded two jazz albums -- You Don't Know What Love Is with pianist Chris Anderson and Meet Me in London with guitarist
Antonio Forcione
-- for the English audiophile label Naim. She described her meeting with the men of Brazilian Girls as "love at first sight and it moved as fast as the Autobahn." Falling into the new, playful downtown scene that was revolving around the Nublu club helped speed the band's success. Like-minded bands like
Wax Poetic
and the Nublu Orchestra had made the club the hip spot in 2004 for adventurous pop fans and Brazilian Girls' free-form, bouncy kind of jamming fit right in. Soon they had the Saturday night slot at Nublu, and the East Village press had fallen in love with them. Murphy and Johnston made appearances on
John Zorn
's 2003 album Voices in the Wilderness and every Brazilian Girl contributed to
Wax Poetic
's sophomore release,
the Nublu Sessions
, the same year. The Verve Company became interested in the band around this time, thinking they were perfect for the more pop and progressive imprint Verve Forecast. In 2004, the label released the
Lazy Lover
EP, which included the title track -- a chillout room favorite -- in its original form and in a remix by the quirky house producer
Herbert
. The group's self-titled, full-length debut hit the streets in early 2005. Plenty of touring followed and the band grabbed some new fans from the jam band world when they performed at
the Disco Biscuits
' annual Camp Bisco festival. In 2006, they returned with their sophomore release,
Talk to La Bomb
.
New York City
, which was co-produced by Hector Castillo and featured appearances by
Baaba Maal
and Kenny Wollesen & the Himalayas, arrived two years later. ~ David Jeffries, Rovi
full bio
Selected Discography
Similar Artists