Free personalized radio that
plays the music you love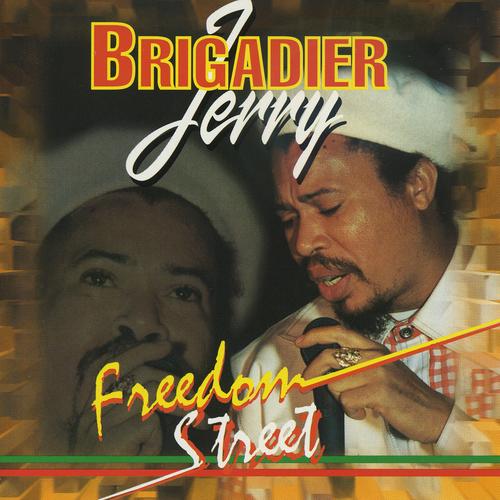 People who also like this
More influential through his live performances than his scant recordings, Brigadier Jerry was one of Jamaica's top DJs at the dawn of the dancehall era. A brilliant lyrical improviser, Briggy -- as he was affectionately known -- elevated the standards for speed and fluidity in DJ chatting technique, laying the groundwork for much of what followed, along with
Josey Wales
and
Charlie Chaplin
. Despite early dancehall's taste for slackness, Jerry's subject matter was almost always spiritual and cultural, though he did have a sense of humor and was an excellent battle DJ. Still actively touring in the new millennium, he also still commanded much of the respect -- among knowledgeable reggae audiences -- that he did in his groundbreaking heyday.
Brigadier Jerry was born Robert Russell in Kingston on September 28, 1957. He started his career in show business by trying standup comedy in his early teens, but soon moved on to work for sound systems. He started out at the legendary U-Roy's King SturGav Hi-Fi system in the early '70s, and soon moved on to the Jah Love Muzik system; this latter was run by the Christian Rastafarian sect to which he belonged, the Twelve Tribes of Israel. While with Jah Love, bootleg cassette tapes of his live performances began to circulate among DJ aficionados, resulting in packed houses wherever he played. Despite his sterling underground reputation and influential, melodic toasting style, Jerry was barely represented on record until 1982. He'd previously cut several tracks for Studio One, including "Every Man Me Brethren" and "Dance in Montreal," and appeared on several local singles with other Twelve Tribes members. In 1982, he cut a new version of the
Slim Smith
riddim "Never Let Go," which he retitled "Pain" and released on the small Jywanza label. It was a major hit, rocketing to the top of the Jamaican charts.
Further singles followed over the next couple of years: "Gwan a School" (Jywanza), "Horse a Gallop" (Powerhouse), "Warn Dem" (for
Judy Mowatt
's Ashandan label), and the 1984 hit "Jamaica, Jamaica" (on Jah Love Muzik's own label). Meanwhile, he also mentored the career of female DJ
Sister Carol
, and DJed for nearly every prominent sound system in Jamaica. A semi-official live album, Live at the Controls, appeared in 1983, but he didn't record his proper debut LP until 1985. Also called Jamaica Jamaica, it was the closest he came to capturing the excitement of his live gigs in the studio, and featured several signature tunes in the title track, the aforementioned "Every Man Me Brethren," and "Armagiddeon." Several more singles followed over the rest of the '80s, but Jerry remained a live DJ at heart. He relocated to New York on a permanent basis from 1988-1991, and only put together a second album with 1990's On the Road.
In 1992, Jerry returned to Jamaica and revived the Jah Love Muzik sound system; he also recorded his third proper album, Hail Him, for
Tapper Zukie
's label. Another album, Freedom Street, appeared on the VP label in 1995. When U-Roy reactivated his King SturGav Hi-Fi sound system, Jerry joined up as a regular, and has since toured extensively with it around the globe, while releasing the very occasional single. ~ Steve Huey
full bio
Similar Artists
Don't have a Pandora account? Sign up
Already have a Pandora account? Log In