We created Pandora to put the Music Genome Project directly in your hands
It's a new kind of radio –
stations that play only music you like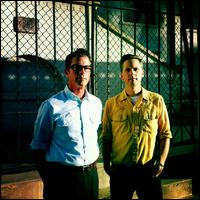 People who also like this
Calexico, a Tucson collective of musicians focused around Joey Burns and John Convertino, forged an eclectic identity through their exploration of Southwestern culture. Composer
Ennio Morricone
's spaghetti Westerns as well as Portuguese fado, Afro-Peruvian music, and '50s and '60s jazz, country, and surf music all factored into Calexico's music. Burns studied classical music at the University of California, Irvine, before starting his rock career, and Calexico formed after Burns met John Convertino in Los Angeles in 1990. At the time, Convertino had been playing with
Howe Gelb
's experimental rock group
Giant Sand
after serving as their upright bassist for a European tour. Burns and Convertino found their voice as a duo during a
Giant Sand
break, moved to Tucson in 1994, and began collecting instruments from the Chicago Music Store.
First, they worked with Tucson's neo-lounge combo
Friends of Dean Martinez
, playing marimba, cello, accordion, and vibraphone in addition to their usual work on bass, guitar, and drums. After a split with
Friends of Dean Martinez
founder Bill Elm in 1996, the duo began to get session work with
Barbara Manning
,
Richard Buckner
,
Victoria Williams
,
Michael Hurley
, Bill Janovitz,
Vic Chesnutt
, and
Lisa Germano
(as the trio
OP8
). Burns and Convertino also experimented on their own with their new instruments in a home recording studio in 1996, releasing their debut CD,
Spoke
, on Germany's Haus Musik Records. After signing with Quarterstick/Touch & Go Records in Chicago, they released
The Black Light
in 1998 and
The Hot Rail
in 2000.
For their 2001 EP
Even My Sure Things Fall Through
, Calexico enlisted the support of soon-to-be members Martin Wenk, Volker Zander, and Jacob Valenzuela, as well as members of Mariachi Luz de Luna. In 2003, the band issued its most cohesive material to date with
Feast of Wire
. An EP of covers,
Convict Pool
, followed a year later. The concert DVD World Drifts In: Live at the Barbican London was also released in 2004, and the group spent the rest of that year and 2005 collaborating with artists such as
Nancy Sinatra
,
Neko Case
,
Laura Cantrell
, and
Iron & Wine
's Sam Beam, with whom they recorded
In the Reins
. Along with touring with
Iron & Wine
in support of that album and appearing in a cameo in Michael Mann's film
Collateral
, Calexico found time to record with producer J.D. Foster. The results were the band's 2006 album,
Garden Ruin
, Calexico's most song-oriented release to date.
Early in 2007, Calexico appeared at Lincoln Center as a part of the venue's American Songbook Series, and performed at New York's Beacon Theatre that fall as part of a
Bob Dylan
tribute. During that time, Burns and Convertino also worked on new material, working with some of the same musicians they collaborated with on
Feast of Wire
as well as
Iron & Wine
's Sam Beam. In summer 2008, one of Calexico's new songs, "Crystal Frontier," was beamed into space as wake-up music for the astronauts on the Space Shuttle Discovery. That fall,
Carried to Dust
arrived. Two years later, the band toured with
Arcade Fire
and released the soundtrack to the documentary
Circo
. In 2011, their song "Slowness" was played as the wake-up song on the space shuttle Endeavour's final flight, and was dedicated to astronaut Mark Kelly by his wife, congresswoman Gabrielle Giffords. Their 2012 album
Algiers
was recorded in and inspired by New Orleans. In 2013, the band issued the live album Spiritoso, which featured backing by Germany's Radio-Symphonieorchester Wien and Deutsches Filmorchester Babelsberg, as a Record Store Day exclusive; later in the year, it was given a wider release. ~ Robert Hicks, Rovi
full bio
Selected Discography
Similar Artists