Free personalized radio that
plays the music you love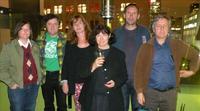 People who also like this
Australian indie pop legends the Cannanes formed in Sydney in late 1984, originally comprising singers/guitarists Stephen O'Neil and Annabel Bleach, bassist Michelle Cannane, and drummer David Nichols; namesake Cannane left the loose-knit group early the following year, the first in a seemingly never-ending series of lineup changes which became as much a trademark as the band's resolute D.I.Y. defiance and primitivist pop aesthetic. With new bassist Frances Gibson, the Cannanes began writing and rehearsing on a more regular basis, releasing their first single ""Life"/"It's Hardly Worth It" in a limited edition of just 12 cassettes; another cassette, The Cannanes Came Across with the Goods, appeared in 1985. In April 1986 the band entered the studio for its first official session, with the resulting EP, Bored Angry & Jealous, declared "Single of the Year!" in NME.
While Nichols spent the better part of the year studying in the UK, drummer Foxy signed on as his replacement; following Nichols' return, the Cannanes booked studio time to record their first proper LP, 1987's The African Man's Tomato, but because it was a beautiful day outside
Bleach
chose not to attend the sessions, with O'Neil's friend Randall Lee tapped to handle lead vocal duties instead. Coinciding with the simultaneous release of the singles "Cardboard" and "Weather," the group mounted its first live dates outside of Sydney, briefly disbanding before reuniting (minus
Lee
, who went on to form
Nice
) to cut 1989's A Love Affair with Nature. Frustrated by their continuing lack of success at home -- despite cult followings in the U.S. and Europe -- the Cannanes then vowed to quit touring, focusing solely on recording; tapes for a planned third album were lost, however, and so the band started Caveat Emptor (recorded with French horn player Nick Kidd) from scratch.
Completed in early 1991 and planned to coincide with the Cannanes' first tour of the U.S., Caveat Emptor did not see official release until mid-1993; by that time bassist Gavin Roy Butler had joined the line-up, appearing on 1994's much-acclaimed Short Poppy Syndrome. Nichols then left the group -- he and his brother Michael later recorded as Blairmailer -- and in the wake of his exit the Cannanes went on a nine-month hiatus, during which time Butler departed as well; O'Neil and Gibson then worked briefly as a duo before recruiting bassist Francesca and drummer Ivor Moulds to record a 1996 self-titled effort. Arty Barbecue -- a long-in-the-works release actually predating Short Poppy Syndrome -- appeared later that same year, and following a brief American tour, Francesca left to have a baby; new bassist Andrew Coffey and violinist Sally Cameron signed on soon after. Trudging into the new millennium, the band released Communicating at an Unknown Rate in fall 2000. The group played on occasion throughout the next decade without releasing too much new music. Shows and tours in Australia, Japan, Mexico and the U.S. filled much of the time until a resurgence of studio work in 2013 when the band released both the Small Batch EP in March and the Howling at all Hours full length in July of the same year. ~ Jason Ankeny
full bio
Selected Discography
Similar Artists
Don't have a Pandora account? Sign up
Already have a Pandora account? Log In