Free personalized radio that
plays the music you love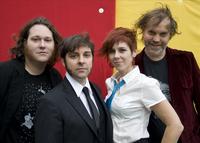 People who also like this
Known for their eclectic indie pop and kooky on-stage antics, Casper & the Cookies grew out of a solo project pioneered by the Athens, Georgia-based musician Jason NeSmith (aka Casper Fandango). In 1996, NeSmith was the drummer for the "philosopher rock" trio Feyerabend, which in addition to NeSmith featured frontman David Dault and future Cookies member Kay Stanton. During a Feyerabend show in 1996, Dault shouted, "This ain't the house of Casper Fandango!," in response to which NeSmith shouted, "Yes it is." Appropriately, Casper Fandango was born. NeSmith adopted the persona and got to work on some songs, which he released on a Casper Fandango & the Knees tape entitled Consumer LP in the spring of 1996. NeSmith continued to toy around with the Casper project, releasing another cassette tape in 1997 (Casper Fandango & His Tiny Sick Tears' How's Your Hand?), but dedicated the majority of his time to projects like Feyerabend and Orange Hat.
The first official Casper & the Cookies show was on March 16, 1999. The band -- at that time consisting of NeSmith, Christo Harris, Ben Spraker, and Kenny Howes -- played at the Gravity pub in Atlanta, with hopes of breaking into the thriving Athens/Atlanta music scene. The following year, the band opened up for
Elf Power
at the 40 Watt in Athens. NeSmith married Stanton shortly thereafter and moved to Athens, a relocation that would eventually prompt Harris and Spraker to leave the band. The band released a couple recordings on the Lookit Meee! label during this time -- Casper Fandango & His Tiny Sick Tears' How's Your Hand? and the Take It Away, Live in the Lobby EP -- but the band still experienced its greatest success at its boisterous live shows.
Soon enough, a representative from Happy Happy Birthday to Me Records caught Casper & the Cookies opening for
the Late BP Helium
and Elekibass, which resulted in an agreement to sign the band. After several lineup changes and a couple years of hard work, the revised group (then consisting of NeSmith, Stanton, Phil Stockman, Paul Walker, and Ben Spraker) released Oh in 2004 and went on tour in Japan the following year. Following Nesmith's short-lived stint with
Of Montreal
, Casper & the Cookies returned in 2006 with a new release, The Optimist's Club, and a new lineup featuring NeSmith, Stanton, and drummer Davy Gibbs as the core members. Released during the summer, the album managed to retain the jumpy, quirky spirit of Oh without the rough-edged production values.
Casper & the Cookies served as the backup band for
Daniel Johnston
at the 2007 Athens Pop Fest. They also toured alongside
the Apples in Stereo
that same year, followed by a second tour of Japan shortly thereafter. Although the lineup continued to change, the band's prolific output remained consistent as they issued Modern Silence in 2009. A free digital release called Ice Mattress was released on their website in 2011 and in 2014 the group returned with the album Dingbats. ~ Margaret Reges
full bio
Similar Artists
Don't have a Pandora account? Sign up
Already have a Pandora account? Log In