We created Pandora to put the Music Genome Project directly in your hands
It's a new kind of radio –
stations that play only music you like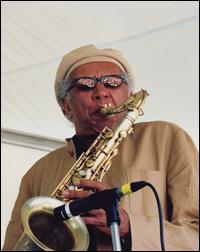 People who also like this
Saxophonist Charles Lloyd is a forward-thinking musician's musician whose supreme improvisational talents and interest in cross-pollinating jazz with rock as well as non-Western styles of music during the '60s and '70s established him as one of the key figures in the development of fusion and world music. Born in Memphis, Tennessee on March 15, 1938, Lloyd grew up surrounded by the vibrant blues and jazz scenes of his native city. Given a saxophone at age nine, Lloyd eventually studied with Memphis legend pianist
Phineas Newborn
as well as saxophonist Irvin Reason. By his teens, Lloyd was not only best friends with schoolmate trumpeter
Booker Little
, but was also gigging locally with such artists as saxophonist George Coleman and future blues icons including
Bobby "Blue" Bland
,
Howlin' Wolf
,
B.B. King
, and others.
In 1956, Lloyd left Memphis and enrolled at the University of Southern California to study classical music, ultimately earning his master's degree in music. During this time, he performed around Los Angeles with a veritable who's who of avant-garde jazz including, among others, saxophonist
Ornette Coleman
, saxophonist
Eric Dolphy
, and vibraphonist
Bobby Hutcherson
. Also during this time, Lloyd became a working member of
Gerald Wilson
's big band. In 1960, Lloyd joined drummer
Chico Hamilton
's ensemble as musical director; replacing
Dolphy
, who had left to play with bassist
Charles Mingus
. During his time with
Hamilton
, Lloyd was responsible for writing and arranging much of the music in the band and recorded several albums with
Hamilton
, including 1962's Transfusion, 1963's A Different Kind of Journey, 1963's
A Man from Two Worlds
, and 1963's Passin' Through.
By the mid-'60s, Lloyd had developed into a highly adept writer/arranger as well as a virtuoso improviser, and regular sojourns to New York City brought him into contact with such luminaries as saxophonist
John Coltrane
, trumpeter
Miles Davis
, saxophonist
Coleman Hawkins
,
Mingus
, and saxophonist
Cannonball Adderley
, whose group he joined in 1964. Also during this time, Lloyd began recording as a leader and released several albums, including 1965's Discovery! The Charles Lloyd Quartet and 1965's Of Course, of Course. Lloyd continued recording as a leader after he left
Adderley
in 1965 and formed his own quartet featuring future
Miles Davis
alum pianist
Keith Jarrett
, drummer
Jack DeJohnette
, and bassist Cecil McBee. An extremely creative, intuitive, and adventurous ensemble, Lloyd's quartet released several exceptional albums during this time, including 1966's Dream Weaver, the 1966 live album Charles Lloyd in Europe, and 1966's Love-In.
However, this ensemble's appearance at the Monterey Pop Festival in 1966 and the subsequent album Forest Flower: Charles Lloyd at Monterey are what truly caught the public's attention. An expansive, sophisticated, and genre-bending performance, Forest Flower found Lloyd and his group in peak creative form mixing his long burgeoning interest in Eastern music with modal and avant-garde jazz. The performance was a highlight at the festival and the album was one of the first jazz recordings to sell a million copies, gain heavy radio play, and garner a wide crossover audience during a time when rock was quickly superseding jazz in the popular mindset.
The success at Monterey buoyed Lloyd's career and he spent much of the late '60s sharing billing at such famed rock venues as San Francisco's Fillmore Auditorium alongside artists including guitarist
Jimi Hendrix
,
Cream
, and
the Grateful Dead
. Such was Lloyd's popularity that in 1967 he was voted Jazz Artist of the Year by Down Beat and toured Europe, even playing in the U.S.S.R. during a time when the government was discouraging jazz performances. Lloyd's genre-bending jazz dovetailed perfectly with the free-thinking experimentation of the late '60s, and although his music was based in acoustic jazz, many artists took notice and went the extra step toward electrifying jazz, most notably including
Miles Davis
, whose 1969 classic
B**ches Brew
drew upon many of the same rock and world music influences that Lloyd had experimented with.
In the early '70s, with his career at its peak, Lloyd withdrew from the public eye and moved to Big Sur to focus on his interest in transcendental meditation and embark on what he has described as an inner journey. Lloyd remained out of music until 1981 when he met the talented 18-year-old French pianist
Michel Petrucciani
. Inspired by
Petrucciani
's immense skill, Lloyd toured with the young pianist throughout the early '80s and released several albums, including the live album Montreux (1982) and 1983's A Night in Copenhagen. In the late '80s, Lloyd formed a quartet with Swedish pianist
Bobo Stenson
and released several albums on ECM, including 1989's
Fish Out of Water
, 1991's
Notes from Big Sur
, and 1996's Canto.
His association with ECM continued throughout the next decade, a time of renewed public interest in Lloyd, and he built a steady body of work for the label, including 1999's Voice in the Night with guitarist
John Abercrombie
, 2000's The Water Is Wide with pianist
Brad Mehldau
, 2001's Hyperion with Higgins, and 2004's Which Way Is East. In 2006, Lloyd released the live album
Sangam
, featuring Indian tabla master
Zakir Hussain
. Two years later he returned with another live album,
Rabo de Nube
, this time with pianist
Jason Moran
. In 2010, Lloyd released
Mirror
, his 13th album for ECM, once again featuring
Moran
along with bassist
Reuben Rogers
and drummer
Eric Harland
. The live album Athens Concert, featuring vocalist Maria Farantouri, followed in 2011. Lloyd continued touring for most of 2012. His next studio effort was a duet offering with pianist
Jason Moran
entitled
Hagar's Song
, which was issued in February of 2013. ~ Matt Collar, Rovi
full bio
Selected Discography
Similar Artists