Free personalized radio that
plays the music you love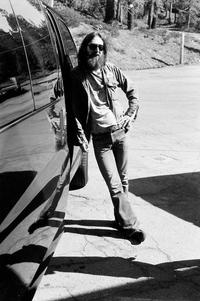 People who also like this
Although his band may have slowly disappeared from the mainstream after making a grand splash, Chris Robinson and
the Black Crowes
cultivated a dedicated audience that ensured they would go down as one of the most respected and well-liked roots rockers of the '90s. By going back to a classic sound in the mold of
Humble Pie
and
the Faces
,
the Black Crowes
were one of the few truly popular bands to continue making rock music that wasn't rooted in a particular decade during the era of hair metal and (later) grunge. Furthermore, Robinson's celebrity status afforded him a platform to support political causes and fiercely champion bands like
the Jayhawks
before the mainstream took notice of their efforts.
Before all of that, he was simply Christopher Mark Robinson, born to an Atlanta musician in 1966. Along with his brother
Rich
, he was exposed to a variety of musical genres throughout his youth, eventually discovering a love for most kinds of rock. Absorbing tremendous amounts of everything from
Big Star
to
Led Zeppelin
, he eventually teamed with
Rich
to start a band in the early '80s. Going under the name Mr. Crowe's Garden, the group started in 1984 and performed a jangly kind of college rock that wasn't getting them noticed. A terribly unstable lineup haunted the group for several years, but when representatives from
American Records
spotted the group performing in a club, they were enamored with Robinson's on-stage presence and soulful voice. Signing the band in 1989, a hilarious debate over a name change (label owner
Rick Rubin
wanted to rechristen the group "the Kobb Kounty Krows") eventually led to the simplified
Black Crowes
moniker.
Working with producer George Drakoulias, the band learned to shape their sound into a blues-based assault that brought to mind the loose, shambling glory of Exile on Main St.-era
Stones
. Debuting in 1990, the band's Shake Your Money Maker was an enormous success and led to several hit singles. Launched into the mainstream, the band immediately took issue with several of the bands it toured with over corporate sponsorship, and became political spokespeople as well as a solid live unit.
Their constant touring also helped the band as their albums began to lose steam commercially. But fans were impressed by their shows and they drew bigger and bigger crowds as
the Crowes
remained on the road for almost all the time between their debut and 2001. In that time, they toured with
Jimmy Page
and helped usher in the new generation of touring-based rock acts that included other live attractions like
Phish
and
Widespread Panic
. But burnout and a career filled with internal struggles put the band on hold, and Robinson started working on more intimate material to combat boredom.
By 2002, he had hooked up with producer/guitarist Paul Stacey and was hammering out his solo debut in the studio. Titled New Earth Mud, the album was a step toward Robinson's poppier side, which was often overshadowed by the technical prowess of his bandmates. Freed from the constraints of the band, Robinson still remained relatively close to the Southern rock sound he was known for. The darker-tinged This Magnificent Distance and the live show Brothers of a Feather, featuring his brother
Rich Robinson
, followed in 2004 and 2007, respectively.
In 2011, Robinson formed a new project called
the Chris Robinson Brotherhood
with guitarist
Neal Casal
, drummer George Sluppick, bassist Mark Dutton, and
Black Crowes
keyboard player Adam MacDougall. The group's studio debut, Big Moon Ritual, arrived in June of the following year, with its sequel, The Magic Door, appearing just three months later. The single "Older Guys" was released at the end of 2012, followed by a live album entitled Betty's S.F. Blends, Vol. 1 a year later. In February of 2014,
the CRB
dropped the preview track "Shore Power" as a teaser for its next studio full-length, Phosphorescent Harvest, which was released in April. Two years later, the band released its next full-length effort, Anyway You Love, We Know How You Feel, which was followed up quickly with If You Lived Here, You Would Be Home by Now, an EP recorded at the same sessions. ~ Bradley Torreano
full bio
Similar Artists
Don't have a Pandora account? Sign up
Already have a Pandora account? Log In