We created Pandora to put the Music Genome Project directly in your hands
It's a new kind of radio –
stations that play only music you like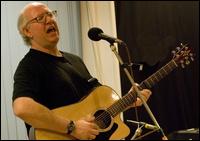 People who also like this
Clive Gregson and
Christine Collister
were the most moving and memorable U.K. folk-rock duo to emerge since Richard & Linda Thompson. Gregson's wry tales of the ins and outs of love, sung in
Collister
's heartbreaking voice, have earned the duo (and subsequent solo work) respect and a devoted following, though commercial success and mainstream recognition have eluded them.
Gregson (born January 4, 1955) was the founder of
Any Trouble
, a pub rock/new wave quartet, in Manchester in 1975. The band's sound, and Gregson's songwriting and singing, reminded some of
Elvis Costello
, and
Any Trouble
was signed by Stiff,
Costello
's label. The band made several well-remembered but poor-selling albums, then split up in 1984.
In 1984, Gregson discovered
Collister
singing in a folk club and, impressed by her talents, offered to work with her on future projects. Gregson had already begun an association with Richard Thompson, initially singing backup on the classic
Shoot Out the Lights
album in 1982. While working on
Thompson
's
Hand of Kindness
, Gregson suggested using
Collister
for additional backup vocal duties. The formula worked, and the two continued for years as integral parts of the Richard Thompson touring band, arguably the finest live band he's assembled. In 1985, Gregson made a solo album, Strange Persuasions, with
Collister
singing backup on a few tracks. The two began performing as a duo on the folk club circuit shortly thereafter; their first release was a homemade tape sold at gigs, later released as
Home and Away
. It was followed by their first formal album,
Mischief
, in 1987, and by a
Change in the Weather
in 1989.
Love Is a Strange Hotel
, released later the same year, was an album of cover versions of Gregson and
Collister
's favorite songs.
By 1992, the stress of constant touring and working together without substantial success finally took its toll on them. The two decided to go their separate ways after one parting shot, The Last Word, and one final tour. They both continued on as solo acts. Gregson eventually relocated to Nashville and has been the more active of the two, releasing the live "official bootleg" Carousel of Noise on his own label in 1994,
People & Places
in 1995, and
I Love This Town
in 1996 for Compass Records, in addition to various production work and side collaborations with
Boo Hewerdine
.
Christine Collister
continued to play the folk circuit, releasing a live album, Live, in 1995 and a new studio album, Blue Aconite, in 1997. In 1998, after a brief stint in the group
Plainsong
, Gregson returned with Happy Hour, and launched a successful tour of the U.K. with
Hewerdine
and
Eddi Reader
. Gregson's 2002 release, Comfort and Joy, was followed by extensive touring, including rare jaunts to the United States and Japan, but in 2003, his career was put on hold for several months after a fall from a ladder resulted in a broken shoulder and arm. Thankfully, Gregson fully recovered, and returned with a low-key solo set, Long Story Short, in late 2004. It would be some seven years before his next album, Bittersweet, produced by Gregson and featuring all original material, appeared in 2011. ~ Chris Woodstra & William Ruhlmann, Rovi
full bio
Similar Artists