Free personalized radio that
plays the music you love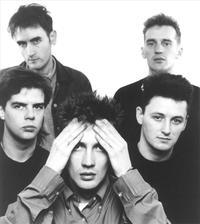 People who also like this
An unfortunately short-lived but utterly wonderful neo-psychedelic jangle pop band, Close Lobsters only managed two albums and an EP in their brief career, but all three releases are brilliant, some of the best music of the late-'80s U.K. indie scene.
Close Lobsters were formed in the Scottish village of Paisley (prophetically enough, given the band's psychedelic tendencies) in 1985 by singer Andrew Burnett and drummer Stewart McFayden. The pair couldn't decide between the names the Close and the Lobsters and simply combined the two for their nonsensical but evocative handle. Adding guitarists Tom Donnelly and Graeme Wilmington, plus
Burnett
's brother Robert on bass, Close Lobsters gained some early notoriety when their song "Fire Station Towers" showed up on the legendary New Musical Express cassette C-86, which lent its name to an entire movement of post-punk guitar bands. Close Lobsters had a greater commitment to melody than most of the C-86 bands, though, as shown on their first single, "Going to Heaven to See If It Rains," which was released in November 1986. A second single, "Never Seen Before," appeared in April 1987, with a superior re-recorded version of "Fire Station Towers" and a cover of
the Only Ones
' "Wide Waterways" on the flip.
The quintet's first album, Foxheads Stalk This Land, was released in late 1987 to lukewarm response in a U.K. press already tired of the C-86 propaganda, but its inviting mix of jangle pop, hazy psychedelia, inscrutable lyrics, and monster guitar hooks gained Close Lobsters a small but fervent following on the U.S. college radio scene. A follow-up single, "Let's Make Some Plans," came out in early 1988; this new song and four other excellent tracks were collected by Close Lobsters' American label, Enigma Records, and released as the EP What Is There to Smile About? in the summer of 1988. Simple and direct, without a wasted note, it's probably the best Close Lobsters release. For the U.K. fans, Strange Fruit released Close Lobsters' four-song Janice Long Session from July, 1986, including the a-sides of the first two singles, the B-side "Nothing Really Matters" and "Pathetic Trivia," which would be reworked as "Pathetique" on Foxheads Stalk This Land.
Close Lobsters' second full album, Headache Rhetoric, was released in March 1989. Darker and less immediately accessible than either of the band's previous releases, with a druggily psychedelic vibe akin to
Love
's best work, it's the sort of album that takes a while to sink in but packs a mighty wallop once it does. Unfortunately, it sank almost without trace in the U.K., and Enigma Records by this time was undergoing the financial problems that would cause it to fold within the year, so the label was unable to capitalize on the band's cult success in the states. After a final EP, Nature Thing, with appropriate covers of
Neil Young
's "Hey Hey My My (Into the Black)" and
Leonard Cohen
's "Paper Thin Hotel" on the flip, was released in the spring of 1989, Close Lobsters quietly called it a day. In 2012, the original band members got back in touch and they decided to reform to play live shows in selected European cities. The response was favorable and the next year the band played the NYC Popfest and released their first new music since 1989, an EP titled Kunstwerk in Spacetime for the Shelflife label. Their comeback was made complete in 2015 with the release of the career spanning collection Firestation Towers 1986-1989, which was released by Fire Records. ~ Stewart Mason
full bio
Selected Discography
Similar Artists
Don't have a Pandora account? Sign up
Already have a Pandora account? Log In