Free personalized radio that
plays the music you love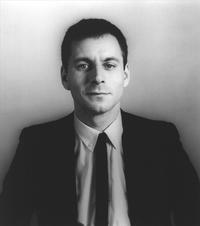 People who also like this
Although Colin Newman is most readily associated with
Wire
, like bandmates
Bruce Gilbert
and Graham Lewis he has undertaken numerous additional creative endeavors. Across a range of projects, the
Wire
guitarist/vocalist has consistently reinvented himself, venturing from post-punk art pop into ambient, electronic territory, along the way producing other artists and setting up his own label.
Newman was born in Salisbury, England, in 1954 and attended Watford School of Art, where he studied under Peter Schmidt. At Watford, he formed
Wire
with
Bruce Gilbert
in 1976 and the band quickly emerged as one of British punk's more innovative, intelligent acts. Having evolved at a breathtaking pace over three albums that were among the period's most influential records (Pink Flag, Chairs Missing, and 154), the group went on hiatus in early 1980.
With
Wire
producer Mike Thorne, Newman immediately embarked on a solo album, A-Z, much of which had been written during the making of 154. Recognizing A-Z's commercial viability, Newman's U.S. label suggested extensive touring to break the album, but since he had already been through this process with
Wire
, and with little success, he declined. (The A-Z track "Alone" would later be heard by millions on the soundtrack to Jonathan Demme's The Silence of the Lambs.)
For the follow-up, Provisionally Entitled the Singing Fish, Newman and Thorne parted company. Thorne was convinced of Newman's chart potential but Newman wasn't interested in making purely commercial records. Inspired partly by Lewis and
Gilbert
's experiments as
Dome
, The Singing Fish was a moderately ambient,
Eno
-esque exercise. Although he re-adopted a more conventional, group-based rock approach for 1982's Not To, Newman had become increasingly frustrated with the music business and, after producing
the Virgin Prunes
' If I Die, I Die, disappeared to India for a year.
Following Newman's return to Britain in 1984,
Wire
resumed its activities, releasing The Ideal Copy in 1986. The next five years were especially productive as Newman kept his creative options open, recording and touring with
Wire
and also pursuing solo projects. Having produced
Minimal Compact
's Raging Souls, Newman moved to Brussels and, in collaboration with
Minimal Compact
's
Malka Spigel
, made two more albums, Commercial Suicide (1986) and the synthesizer-based It Seems (1988). Throughout this period, both
Wire
's and Newman's own recordings became increasingly computer-oriented. While advances in digital technology prompted
Wire
drummer Robert Gotobed's departure and temporarily ended the band's existence as a foursome, they also stimulated a new phase in Newman's work.
With
Spigel
, he relocated to London in the early '90s, founded the Swim label, and put out records by diverse electronic artists including Ronnie & Clyde, Lobe, dol-lop, and Pablo's Eye. Energized by the flourishing techno and electronica scenes, Newman collaborated with
Spigel
during the '90s on her Rosh Ballata (1993) and under various monikers: Oracle, Immersion, Earth, Oscillating, and Intens.
In 1996, as Immersion, the pair contributed a sound installation to a group show at the Irish Museum of Modern Art in Dublin. The following year saw the release of B**tard, an album of instrumental, melodic electronica that was Newman's first self-credited record since It Seems. In addition to working on
Spigel
's second full-length record, My Pet Fish, co-producing Silo's Instar, and remixing such diverse bands as
Bowery Electric
,
Hawkwind
, and
Gentle Giant
, Newman returned to performance in 1998-1999, playing gigs in Europe and America with
Spigel
. Another Immersion album, the abstract, ambient Low Impact, followed, and 2000 found Newman and
Spigel
again playing live as Immersion, this time with more of a multimedia emphasis.
Just as Newman had recaptured some of punk's original D.I.Y. spirit with the foundation of the Swim label, in 2001 he continued in the same vein with the launch of PostEverything.com -- a web-based store aimed at the distribution of independently released music.
Amid this flurry of millennial activity, Newman also regrouped with
Wire
for concerts in the U.K. and the U.S. in 2000 and the band eventually began recording again. The first entirely new
Wire
material in over a decade appeared on 2002's Read & Burn 01. Send, a full-length containing brand-new songs and material from the Read & Burn series, was released in May of 2003.
Wire
remained a going concern throughout the 2000s and 2010s, and Newman divided his time between the band and his other projects. These included
Githead
, a collaboration with
Spigel
,
Scanner
's Robin Rimbaud, and Max Franken. The band debuted with 2004's Headgit EP, and released full-length albums such as 2005's Profile, 2007's Art Pop, 2009's Landing, and 2014's Waiting for a Sign. Newman also worked on
Spigel
's solo albums Every Day Is Like the First Day (2012) and Gliding (2014). Among
Wire
's highlights during this time were 2008's Object 47, their first album without
Gilbert
; 2013's Change Becomes Us, which reworked previously unrecorded songs from just before the band's first hiatus; and the moody, streamlined pop of 2015's self-titled effort. Late in 2016, Newman reissued A-Z, Provisionally Entitled the Singing Fish, and Not To on his own Sentient Sonics imprint. ~ Wilson Neate
full bio
Selected Discography
Similar Artists
Don't have a Pandora account? Sign up
Already have a Pandora account? Log In