Free personalized radio that
plays the music you love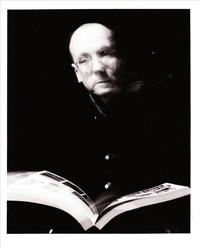 People who also like this
British writer and composer David Toop has been highly influential as both a musician and journalist since the 1970s, contributing to numerous publications, authoring several highly regarded books about music, and producing myriad styles of music, both as a solo artist and collaborator. Although Toop's recorded output has included everything from experimental rock and jazz to musique concrète, the bulk of his solo and collaborative works has been in the vein of experimental ambient. Many of his recordings blend alien abstraction with earthly melodicism, incorporating acoustic instruments, spoken word samples, and global influences. Better known perhaps as a journalist and music historiographer, Toop wrote one of the first books about hip-hop -- 1984's groundbreaking Rap Attack -- and has been a longtime contributing editor and columnist for U.K. experimental music magazine The Wire.
Born in London in 1949 and raised in nearby Waltham Cross, Toop studied at iconic British institution Hornsey College of Art. He became a fixture of the British improvisational and experimental music scene, and released several albums in collaboration with artists such as
Max Eastley
, Paul Burwell, and
Steve Beresford
. Toop and
Eastley
's 1975 album New and Rediscovered Musical Instruments was one of the first releases on
Brian Eno
's Obscure label. Toop was a member of experimental rock collective the 49 Americans, as well as avant-pop group
the Flying Lizards
, who were well known on both sides of the Atlantic for their robotic, postmodern cover versions of oldies such as "Money (That's What I Want)" and "Summertime Blues." He was also involved in General Strike, an experimental dub group, as well as Japanese synth pop band Frank Chickens. Other artists he worked with during the '80s included
John Zorn
,
Ivor Cutler
, and
Prince Far I
.
After a second edition of Rap Attack was published in 1992, Toop recorded one of his most acclaimed albums with
Eastley
. The duo's 1994 collaboration, Buried Dreams, is a widely hailed document of experimental environmental composition. A dizzying blend of found sounds, field recordings, electro-acoustics, and digital manipulation, its success (and critical popularity) also helped set the tone for Toop's subsequent solo work. Screen Ceremonies was released in 1995 on the Wire Editions label, and he appeared on ambient techno compilations released by labels such as em:t and Instinct Records. Toop also published an extensive, definitive book about ambient music titled Ocean of Sound; a similarly named double CD compilation was released, examining the history of recorded sound from Buddhist monks to
My Bloody Valentine
and was widely hailed.
For the remainder of the '90s, Toop was highly active both as a musician and a curator, with albums appearing on Virgin (Pink Noir, 1996, and Spirit World, 1997), Caiprinha (Museum of Fruit, 1997), and Barooni (Hot Pants Idol, 1999), as well as several additional Ocean of Sound compilations. He also published another book, Exotica: Fabricated Soundscapes in a Real World, in 1999, and a third volume of Rap Attack was released in 2000. During the early 2000s, he acted as sound curator for several exhibitions, including 2000's Sonic Boom (at London's Hayward Gallery) and 2001-2002's Radical Fashion (at the Victoria and Albert Museum). Toop composed the soundtrack to a CD-R exhibition in Belgium titled Mondophrenetic, and Sub Rosa released the music as 37th Floor at Sunset in 2000. That same year, Toop collaborated with British cyberpunk novelist Jeff Noon for an album titled Needle in the Groove, which was released by
Scanner
's Sulphur label. Toop and
Scanner
later collaborated with I/O3, releasing A Picturesque View, Ignored on I/O3 member
Lawrence English
's Room40 label in 2002.
In 2003, a new Toop solo album titled Black Chamber was released by Sub Rosa. A collaboration with Akio Suzuki titled Breath-Taking was released by Confront in 2004. Also that year, a new album with
Eastley
titled Doll Creature appeared on French label BiP_HOp. Toop wrote another book, Haunted Memory, which was accompanied by another double-CD compilation, released this time by Staubgold. In 2007, Toop's solo album Sound Body was released by
David Sylvian
and Steve Jansen's Samadhisound label. His book Sinister Resonance: The Mediumship of the Listener was published in 2010. In 2014, Sub Rosa released Mondo Black Chamber, a double-CD that compiled the out of print 37th Floor at Sunset and Black Chamber, with additional material taken from compilations. The label also released Lost Shadows: In Defence of the Soul - Yanomami Shamanism, Songs, Ritual, 1978, a reissue of a record of traditional songs Toop recorded in the Amazon jungle. Life on the Inside, Toop's audio companion to an exhibition by French sculptor Pierre Besson, was released by Sub Rosa in 2016. In the same year, Room40 put out Toop's first new original studio album in almost a decade, Entities Inertias Faint Beings. ~ Sean Cooper & Paul Simpson
full bio
Selected Discography
x

Track List:
Dry Keys Echo In The Dark And Humid Early Hours
x

Track List:
Lost Shadows: In Defence of the Soul (Yanomami Shamanism, Songs, Ritual, 1978)
Similar Artists
Don't have a Pandora account? Sign up
Already have a Pandora account? Log In