We created Pandora to put the Music Genome Project directly in your hands
It's a new kind of radio –
stations that play only music you like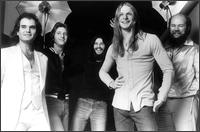 People who also like this
One of the top jazz-rock fusion ensembles ever, the Dixie Dregs combined virtuoso technique with eclecticism and a sense of humor and spirit too frequently lacking in similar projects. Guitarist
Steve Morse
and bassist Andy West played together as high-school students in Augusta, GA, in a conventional rock band called Dixie Grit. When
Morse
was expelled from school for refusing to cut his hair, he enrolled at the University of Miami School of Music, where he met violinist Allen Sloan, who had played with the Miami Philharmonic, and drummer Rod Morgenstein. The three decided to form a band, and
Morse
convinced West to come to Miami and join. The Dixie Dregs completed their lineup with keyboardist Steve Davidowski. Their first album, The Great Spectacular, was recorded for a class project in 1975 and later released by the band (it is long out of print). Following graduation, the quintet began playing live around the South and got its break after opening for
Sea Level
on 1976, when a representative from Capricorn Records was impressed enough to sign the band. Mark Parrish, a former member of Dixie Grit, replaced Davidowski for their official debut, 1977's
Free Fall
.
Their follow-up,
What If
, proved to be one of their most artistically successful albums, and the Dixie Dregs played at the 1978 Montreux Jazz Festival with
T Lavitz
replacing Parrish. Half of
Night of the Living Dregs
contains excerpts from that concert. The group shortened its name to the Dregs for 1981's
Unsung Heroes
, and added both vocalists and three-time national fiddling champ
Mark O'Connor
, whose old-timey playing style added another dimension to the group's sound, for
Industry Standard
. The Dregs then disbanded; the highly respected
Morse
formed his own band and recorded several albums, later joining
Kansas
from 1986 to 1988, while Morgenstein hooked up with pop-metallists
Winger
.
The Dregs reunited briefly in 1988 for a series of live dates, but a full-fledged reunion didn't take place until 1992, with
Morse
,
Lavitz
, Morgenstein, and Dave LaRue of the Steve Morse Band in West's place. Allen Sloan rejoined only briefly, with his position then filled by ex-
Mahavishnu Orchestra
member Jerry Goodman.
Bring 'Em Back Alive
was culled from the group's tour, and 1994's
Full Circle
was also well received.
California Screamin'
followed in early 2000. ~ Steve Huey, Rovi
full bio
Selected Discography
Similar Artists