We created Pandora to put the Music Genome Project directly in your hands
It's a new kind of radio –
stations that play only music you like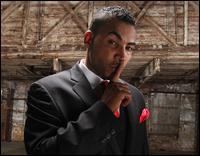 People who also like this
Don Omar became one of reggaeton's first international superstars, thanks to his early-2000s work with
Luny Tunes
, but even more so to "Reggaeton Latino," his 2005 anthem that became one of the style's first genuine crossover hits. Born William Omar Landrón on February 10, 1978, in Villa Palmeras, Puerto Rico, Omar involved himself in the church at a young age. He became a preacher; in fact, and it was in this role that he began honing his performance ability as well as his deep insight into the human soul. He eventually left the church (a matter later addressed in his song "Aunque Te Fuiste") and channeled his talents toward music. It wasn't that far of a stretch from his days in the church, and Omar quickly took to the burgeoning reggaeton movement then sweeping through Puerto Rico. His big break came courtesy of
Héctor el Bambino
(aka
Héctor el Father
) of the popular duo Héctor & Tito. Initially Omar produced and wrote songs for the duo, but it wasn't long before he was given the opportunity to collaborate with them vocally, as featured on the song "A la Reconquista." His solo career took off around this same time, with one of his first hits being "Desde Que Llego" in 2002. He made his album debut the following year on the VI Music label.
His album debut,
The Last Don
(2003), was a landmark for the reggaeton movement, which was then just beginning to make inroads into the lucrative stateside market. The album featured extensive production work by
Luny Tunes
and Eliel, who would quickly become the style's go-to hitmakers, the former in particular, and it spawned a few hit records, including "Intocable" and "Dile." Beyond this album, Omar was scoring further hits with
Luny Tunes
on their mixtape CDs, most notably "Entre Tú y Yo" from
Mas Flow
and "Dale Don Dale" from La Trayectoria. His biggest hit came on the Chosen Few compilation, though. That hit, "Reggaeton Latino," was the perfect anthem -- an empowering rallying call of Latino pride, arriving just as reggaeton was spreading like wildfire throughout the coastal urban centers of the United States in summer 2005. The song was so popular in the U.S. that a remix was quickly issued to further the crossover possibilities. This bilingual remix featured well-known Latino rappers
N.O.R.E.
and
Fat Joe
, and it was only the second reggaeton song to get MTV airplay in the States, not to mention the crossover radio airplay it received. The success of "Reggaeton Latino" affirmed Omar's status alongside
Daddy Yankee
and
Tego Calderón
as one of reggaeton's true leaders, and of them, he was clearly the revolutionary: a man of passion with a voice that sought to uplift his people to brighter days, not unlike what he had sought to do in his previous profession as a preacher, except now with an emphasis on the secular rather than non-secular, and with a much, much larger following.
Following a live album (The Last Don: Live, 2004) and best-of/remix compilation (
Da Hit Man Presents Reggaeton Latino
, 2005), Omar released his second proper album,
King of Kings
(2006). It easily debuted atop the Latin album chart; more notably, though, it reached number eight on the Billboard 200 overall album chart, the first reggaeton album ever to break the Top Ten. Then in the wake of the album's big debut and the popularity of lead single "Angelito," which was a number one hit, Omar released a couple mixtapes --
Los Bandoleros Reloaded
(2006) and El Pentagono (2007) -- which featured further hits such as "No Se de Ella (My Space)." The futuristic concept album iDon arrived in 2009 with the protégé showcase
Don Omar Presents Meet the Orphans
following in late 2010. Its sequel, MTO²: New Generation, arrived in 2012, and was another number one Latin hit. The album won the award for Best Urban Music Album at the 2012 Latin Grammy Awards. Don Omar scored two hit singles in 2014, "Guaya Guaya" and "Soledad," both of which were included on his next album,
The Last Don 2
, which was released in June of 2015. ~ Jason Birchmeier, Rovi
full bio
Selected Discography
Similar Artists