Free personalized radio that
plays the music you love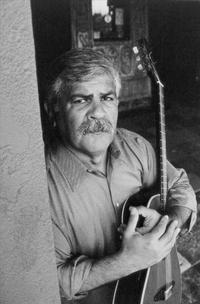 People who also like this
Dori Caymmi is an internationally celebrated composer and singer, having an expressive production recorded by many important artists worldwide, along with a prominent career as an arranger and producer, having also written music for soundtracks.
The son of composer Dorival Caymmi and former singer Stella Maris (Adelaide Tostes Caymmi), Caymmi began very early to study music, taking up piano at eight with Lúcia Branco, and later, with Nise Poggi Obino. Attending the Conservatório Lorenzo Fernandez for music theory classes, he also studied harmony with Paulo Silva and
Moacir Santos
. In 1959, he debuted on the stage, accompanying his sister Nana. In 1960, he joined the Grupo dos Sete, writing music for televised plays. In December 1964, the important play Opinião (performed at a theater with the same name in Rio), which buried bossa nova and generated the MPB as a movement derived from protest songs, had his musical direction and violão playing. In 1966, he directed the music for the important play Arena Conta Zumbi during the Carioca season. From 1964 to 1966, he produced the recordings of such artists as
Edu Lobo
,
Eumir Deodato
, and Nara Leão for the Philips label. In 1965, he performed in the historic Beco das Garrafas on Rio's 52nd street at Bottle's nightclub, together with
Francis Hime
. The next year, he presented himself, together with Hime, Wanda Sá, and Vinícius de Moraes, at the Teatro de Bolso in Rio. With Nelson Motta, he composed several songs presented in Brazil's historic festivals, being classified several times. In 1966, their song "Saveiros," interpreted by
Nana Caymmi
, won first place in the national competition and second place at the international, at the I FIC (International Song Festival) of TV Rio. The next year, with "Cantiga" performed by MPB-4, they came in ninth place at the II FIC from TV Globo, Rio. One of the biggest hits of the duo, "O Cantador" ("Like a lover"), recorded by many artists such as
Flora Purim
, Natalie Cole, and Sarah Vaughan, was also classified at TV Record's III FMPB (Festival of Brazilian Popular Music). The duo also wrote "De Onde Vens," recorded by
Elis Regina
and Nara Leão, and "Festa," recorded by
Jair Rodrigues
,
Elis Regina
, and Sérgio Mendes.
Joining
Paul Winter
's sextet as arranger and violonista (acoustic guitar player), he toured with them in the U.S. and Canada. The first LPs by
Caetano Veloso
and
Gal Costa
, Domingo, and by
Gilberto Gil
, Louvação, had his musical direction and (non-credited) arrangements. Knowing the baianos since Salvador, he was the one who, together with
Roberto Menescal
and
Edu Lobo
, convinced João Araújo, the Philips director, to record Caetano and Gal, both novice artists then. Together with
Menescal
and Hime, he wrote the arrangements for that album. Caetano acknowledged Caymmi as the best Brazilian violonista after João Gilberto. Caymmi was on the vortex of the Tropicalista movement, being present at the historic reunion at Sérgio Ricardo's home, where
Gil
and Caetano tried to convince him,
Edu Lobo
, Sidney Miller,
Chico Buarque
,
Francis Hime
,
Paulinho da Viola
, Torquato Neto, and Capinam to join the movement. Caymmi hadn't accepted as he couldn't take
the Beatles
or any pop music, for that matter. Among the several soundtracks he's written for movies, those deserving mention are a partnership with Tom Jobim on Paulo César Sarraceni's Crônica da Casa Assassinada (1971), a partnership with Paulo César Pinheiro in Bruno Barreto's Tati, a Garota (1973), and Paulo Tiago's O Duelo (1974). For TV Globo, he wrote the soundtrack for the TV soap opera Gabriela (1975), and the Sítio do Picapau Amarelo, televised from 1977 to 1984, among others. Since 1989, he has lived in Los Angeles due to a lack of Brazilian identity in the mass production of easy listening hits, in his own words. In 1994, he participated of
Dionne Warwick
's album Aquarela do Brasil. In the same year, he performed at the Montreux Festival in Switzerland, with
Toots Thielemans
,
Oscar Castro-Neves
,
Eliane Elias
,
Ricardo Silveira
, and
Toots
' Brazil Project. The
Project
also toured through the U.S. and Europe. That next year, he participated with
Gilberto Gil
,
Branford Marsalis
,
Herbie Mann
, Paula Robinson,
Eliane Elias
, Joyce, Paulo, Daniel Jobim,
Ottmar Liebert
, Maúcha Adnet, and Orpheus Chamber Orchestra on a tribute for Tom Jobim, one year after his death, held at Carnegie Hall in New York. He was also present at the two subsequent shows in tribute to Jobim, always in the same hall. In that year, he also appeared on
Edu Lobo
's album Meia-Noite, on the Songbook Edu Lobo (Lumiar), and wrote the arrangements for Spike Lee's film Clockers. In 1996, he played at Brazil's Heineken Concerts, also performing shows accompanied by the Orquestra Jazz Sinfônica and appearing on the Tom Jobim Songbook (Lumiar). He spent some time in Rio in 1997 to writing, orchestrate, and record Fábio Barreto's movie Bela Donna. Also in that year, he worked on the album Sketches of James Taylor, a jazz project of the compositions of the American writer, together with
Flora Purim
and
Airto Moreira
. He also took part in
Djavan
's Songbook (Lumiar), released his CD Toma Conta do meu Filho, que eu Também Já Fui do Mar..., and conducted the Orquestra Philarmonia Brasileira. His CD Romantic Vision was nominated for a Grammy Award as Best Arranger for
Henry Mancini
's "Pink Panther." In the same year, he performed at the Blue Note in New York. ~ Alvaro Neder
full bio
Selected Discography
Similar Artists
Don't have a Pandora account? Sign up
Already have a Pandora account? Log In