Free personalized radio that
plays the music you love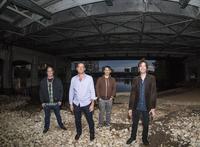 People who also like this
Although they weren't around for long, Drive Like Jehu had a tremendous impact on the evolution of hardcore punk into emo. Underappreciated during their existence in the early '90s, the band was sometimes overlooked next to post-hardcore kin like
Fugazi
and
Quicksand
; at the time, many critics also lacked the frame of reference to place their music in a broader context. The term "emo" hadn't yet come into wider use, and while Drive Like Jehu didn't much resemble the sound that word would later come to signify, they exerted a powerful pull on its development. Moreover, they did fit the earlier definition of emo: challenging, intricate guitar rock rooted in hardcore and performed with blistering intensity, especially the frenzied vocals. Drive Like Jehu was arguably the most progressive of the leading post-hardcore bands: their lengthy, multisectioned compositions were filled with odd time signatures, orchestrated builds and releases, elliptical melodies, and other twists and turns that built on the innovations of the Dischord label. The result was one of the most distinctive and ferocious sounds in the loosely defined post-hardcore movement.
Drive Like Jehu were founded in San Diego by guitarist John "Speedo" Reis (who simultaneously served as the frontman for trash-punkers
Rocket From the Crypt
) and lead singer/guitarist Rick Froberg (aka Eric Froberg, initially credited as Rick Farr). The two had previously played together in a grungy, metal-tinged punk outfit called
Pitchfork
from 1986-1990, and recorded one album, titled Eucalyptus (on which Froberg used the alias Rick Fork). Itching to develop their more progressive ideas further, Froberg and Reis regrouped in August 1990 as Drive Like Jehu, taking their name from an obscure Biblical reference in the second book of Kings. The remainder of the band consisted of bassist Mike Kennedy and drummer Mark Trombino, a powerful and versatile rhythm section capable of pushing Reis and Froberg's complex, interlocking guitar patterns to even greater heights.
Drive Like Jehu signed with the independent Headhunter label at approximately the same time as Reis'
Rocket From the Crypt
. Both bands released their debut albums in 1991, and Jehu's self-titled bow stood in stark contrast with its epic prog-punk song structures and wild, abrasive performances. In 1992, Jehu recorded an explosive, one-off single for Merge, "Hand Over Fist" b/w "Bullet Train to Vegas."
Rocket From the Crypt
signed a major-label contract with Interscope in 1994, and by some accounts, Reis insisted on a package deal in which Jehu would be allowed to sign as well: hence the highly unlikely major-label release of the cult classic Yank Crime in 1994. Another uncompromising maelstrom of technically intricate fury, Yank Crime refined the approach of its predecessor and expanded the group's growing cult audience. However, Jehu disbanded not long after its release, in part for Reis to concentrate on
Rocket From the Crypt
. Drummer Trombino went on to become an in-demand producer and engineer for commercially successful bands like
blink-182
and
Jimmy Eat World
, while bassist Kennedy retired from music and became a chemist. In 2002, Reis and Froberg reunited in the musically similar but streamlined
Hot Snakes
, and Reis also reissued Yank Crime on his own Swami label, complete with both sides of Jehu's 1992 Merge single. ~ Steve Huey
full bio
Selected Discography
x

Track List:
"Bullet Train to Vegas" b/w "Hand Over Fist"
Similar Artists
Don't have a Pandora account? Sign up
Already have a Pandora account? Log In