Free personalized radio that
plays the music you love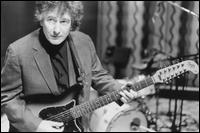 People who also like this
One of the most unique singer/songwriters in American indie music, with an unforgettable adenoidal vocal delivery that makes him sound like a low-level wise guy in one of those old Warner Bros. gangster films of the '30s and a lyrical obsession with the themes of pulp crime novels and film noir, Stan Ridgway is a true original. From his early days with quirky Los Angeles new wavers
Wall of Voodoo
to his even more intriguing solo career, Ridgway has created an impressive, if at times somewhat inscrutable and increasingly bleak, body of work.
Born with the euphonious name of Stanard Q. Ridgway in the desert town of Barstow, CA, on April 5, 1954, and raised in Los Angeles, Ridgway claims to have been a budding ventriloquist who spent his first night in jail at the age of 12 for stealing street signs. Ridgway also had a childhood fascination with folk music, pestering his parents until they bought him a banjo at the age of 14. Ridgway's love of folk music, though it may seem odd considering his later career directions, shows on his occasional covers of artists like
Johnny Cash
and
Tennessee Ernie Ford
, but other artists ranging from
Kurt Weill
to
Peter Gabriel
-era
Genesis
were also big influences on the budding composer.
Ridgway formed
Wall of Voodoo
with guitarist Marc Moreland, bassist Bruce Moreland, keyboardist Chas T. Gray, and drummer Joe Nanini during the 1977 punk explosion; interestingly, however, the group originally formed not as a punk band but as a composers' collective that hoped to write and perform music for low-budget films. Nonetheless, the group was eventually swept up into the local post-punk new wave scene, where its combination of
Ennio Morricone
,
Lefty Frizzell
, and crime novelist Jim Thompson was loved and hated with equal passion. Following a brittle, art rock-ish self-titled EP (with a brilliant synth rock cover of
Cash
's "Ring of Fire" that brought the group much notoriety) in 1980, the band released two albums, 1981's Dark Continent and 1982's Call of the West, an excellent concept album about the lives of the disenfranchised in their native California. Lyrically dense, almost novelistic songs like "Factory," "Lost Weekend," and the title track revealed Ridgway to be among the most gifted lyricists of the day, while the inescapable hit "Mexican Radio" was huge on MTV and the suddenly new wave-friendly Top 40 airwaves. However, at that career peak, the band split in two backstage after a disastrous appearance at the 1983 U.S. Festival, with Ridgway and Nanini departing.
Ridgway immediately reappeared in the fall of 1983 with "Don't Box Me In," a nervous-sounding collaboration with
Stewart Copeland
of
the Police
from the film
Rumble Fish
. However, it wasn't until early 1986 that Ridgway's first solo album, The Big Heat, finally appeared. The lyrics of songs like "Pick It Up and Put It in Your Pocket" and "Drive She Said" are even more elliptically novelistic, like Donald Barthelme stories set to music. The seven-minute closer, a story song called "Camouflage," was a surprise Top Five hit in the U.K. Ridgway continued his slow but steady work habits after The Big Heat's release, waiting over three years before releasing the even darker-hued follow-up, Mosquitos.
Surprisingly, Ridgway's third album, Partyball, was out less than two years later; if anything even bleaker lyrically than any of Ridgway's previous efforts ("Jack Talked Like a Man on Fire" is his creepiest character study yet), Partyball is leavened by five brief instrumentals showing that his fascination with movie music has continued. In fact, Ridgway's first film score, for the low-budget indie
Future Kick
, was also released in 1991. (Ridgway's other film scores have included
Melting Pot
,
Speedway Junky
,
Desperate But Not Serious
,
Error in Judgment
, and
The Keening
; the Australia-only release Film Songs collects six of Ridgway's pieces of film music.) Ridgway left IRS Records after Partyball's release, and the label responded with the 1992 compilation Songs That Made This Country Great, which also includes
Wall of Voodoo
material. Ridgway self-released a companion video volume, Showbusiness Is My Life: The Video Collection 1977-1982 (titled after Ridgway's usual on-stage farewell during his
Wall of Voodoo
days), in 1995.
Through the latter half of the '90s, Ridgway also collaborated with his wife, Pietra Wexstun, and ex-
Rain Parade
drummer Ivan Knight as the noise rock experimentalists Drywall. A fourth solo album, 1996's Black Diamond, was a surprising detour into cocktail-style jazz reminiscent of
Henry Mancini
's '50s and '60s film scores. Even more unexpectedly, Ridgway's next album was 1998's The Way I Feel Today, a completely straight collection of 19 pop standards from the '30s and '40s with full orchestral backing. Released in 1999, Anatomy, with a cover illustration recalling the famous Saul Bass poster for the film
Anatomy of a Murder
, doesn't sound much like
Duke Ellington
's score for that film, though similar themes of justice and dishonor percolate through Ridgway's always impressive lyrics. Two closet-cleaning releases, 2001's live Poolside with Gilly: The Partyball Tour 1991 and 2002's Holiday in Dirt: New Tracks and Rarities, were self-released by Ridgway and sold through his website. An all-new collection of songs, the introspective Neon Mirage, arrived in 2010, followed by Mr. Trouble in 2012. ~ Stewart Mason, Rovi
full bio
Similar Artists
Don't have a Pandora account? Sign up
Already have a Pandora account? Log In