Free personalized radio that
plays the music you love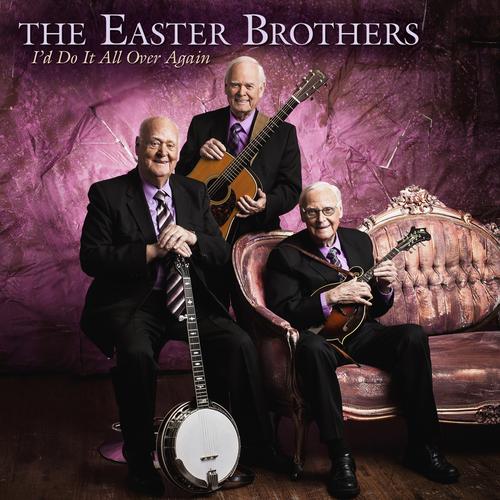 People who also like this
It makes sense that the name Easter would be important on the gospel music scene. In North Carolina, the Easter family has spawned several musical aggregations with the extended lifespan of the resurrected, as well as a multitude of spin-off musical projects. Easter family groups are diverse in age -- one can book the elderly original Easter Brothers or bring in the youthful Easter Bunnies, none of whom are old enough to drink. Not that they'd want to, all sharing a strict Christian outlook. Perhaps the only Easter that is not part of this family dynasty is Chapel Hill's producer, studio owner, and performer
Mitch Easter
, who remains more comfortable with a cheeseburger than a crucifix. The Easter name first appeared in the professional gospel music world in the early '50s, when Russell Easter, Sr., James Easter, and Edd Easter began playing a combination of bluegrass and gospel music in North Carolina. This was the original Easter Brothers. Each brother became a father, and these various offsprings became musically talented and eventual Easter Bunnies, hopefully in that order. From Russell Easter, Sr. sprang forth both Russell Easter, Jr. and Rodger Easter. James Easter fathered Jeff Easter and Steve "Rabbit" Easter, the latter child named in tribute to the mysterious 13th disciple, Bugs Bunny. Edd Easter outdid his brothers by coming up with Bobby Easter, Billy Easter, and Arnold Easter. One thing these Easter males had in common was that they were spending a lot of time sitting on the same bus, riding from gospel show to gospel show. The Easter Brothers reputation as both performers and songwriters was naturally spreading with each day's travel. It was a good inspiration for writing, and the brothers became busy gospel tunesmiths, whose songs such as "Thank You Lord for Your Blessings on Me," "The Darkest Hour," "They're Holding Up the Ladder," "He's the Rock I'm Leaning On," "Help Me Stand Lord," "Jesus, You've Just Made My Day," "Heart That Will Never Break Again," "Please Don't Tell My Daddy," and "Hand Me Downs" became standards covered by many other artists. The group's discography includes sides done for several record labels beginning with King, a major '60s country label. The Easter Brothers also recorded for QCA before starting up a family label, Commandment. That outfit was eventually absorbed into the Lifeline label. The group also recorded for Rebel, a hip bluegrass label, and Mission, often in combination with the Green Valley Quartet.
The intense musical activity seems to have been totally inspirational to the children. As the tale is told, the four-year-old Russell Easter, Jr. took hold of an old flattop guitar with a neck that was so warped there was enough space to shove a submarine sandwich in between the strings and the fretboard. The boy took on the instrument with a water glass, making it sing like a dobro. It was a good thing the kid figured out this modification, since the family was much too broke to buy him a real dobro. Flash forward eight years, and the now 12-year-old Russell Easter, Jr. is on-stage at the Grand Ole Opry, playing with
Roy Acuff
. Rather than put him in this position armed with only the busted old water-glass guitar, the family had decided to spend its life's savings on a pedal steel guitar for the lad. The investment more than paid off, as Nashville became quite fond of Russell Easter, Jr. as both a performer and session player. He wound up mastering 13 different instruments, including the banjo, and was thus a handy guy to have around when songs were being cut. And he did just that some 3,000 times according to Nashville session archivists. He commuted between the country music recording mecca and the Easter family's home base in Mt. Airy, NC, an Appalachian community which was the inspiration for the idyllic little town of Mayberry created for television world by the state's keynote comic talent,
Andy Griffith
. It was a good place for the family to grow and prosper. Russell Easter, Jr. could have taken care of the former job all on his own, producing Shannon Easter, Jason Easter, Marti Easter, Jacob Easter, and Jared Easter. Horribly enough, Shannon Easter and her husband were murdered in their home in the summer of 1994. The tragedy stunned the entire family. As performers they drew their wagons in a circle, and Russell Easter, Jr. said goodbye to session hotshot status and backing up secular performers such as
Donna Fargo
,
Glen Campbell
, and
Boots Randolph
. He became totally involved in gospel music and the ministry. Record producers who arrived at their doors with suitcases full of money were told to hit the road when it turned out the idea was to get the group to record love songs, not gospel. "We are already singing the greatest love song in the world," was the family's official statement.
Jason Easter played guitar, mandolin, bass, keyboard, and harmonica and sang in the group from the age of five until he was 19. He then created a business installing sound and video equipment in churches, but served as producer on several of the group's albums and fills in at gigs from time to time. He is part of the so-called second generation, not to mention Jeff Easter, Sheri Easter, Steve "Rabbit" Easter, and Edd Easter's sons Arnold Easter and Billy Easter, who also performed with the group. Then there is the third generation, in which Russell Easter, Jr. is considered the godfather presiding over Barbara Easter, Marti Easter, Jacob Easter, and multi-instrumentalist Jared Easter. The later period of the group's music is marked by the influence of what the family describes as Southern gospel. "Thank You, Lord, for Your Blessings on Me," a good example, was chosen as the "Bluegrass Recorded Song of the Year" in 2002. ~ Eugene Chadbourne
full bio
Selected Discography
Similar Artists
Don't have a Pandora account? Sign up
Already have a Pandora account? Log In