Free personalized radio that
plays the music you love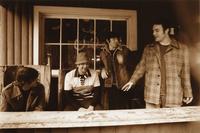 People who also like this
The origin of EchoBrain began at a Super Bowl party in 1995, when
Metallica
bassist Jason Newsted invited a handful of neighbors to his house to watch the game and jam in his home studio, known as "The Chophouse." The veteran musician was impressed with a local 16-year-old jazz/funk drummer named Brian Sagrafena and the two spent the rest of the evening working through their favorite
Tower of Power
tunes, eventually missing the end of the football game. Sagrafena, the son of a drummer who spent a stint in the '70s San Francisco funk/soul band Sassafras, was never a
Metallica
fan, so his jam sessions with heavy metal royalty never really affected him, but his friend and musical collaborator Dylan Donkin was admittedly sweaty palmed upon meeting Newsted. The three kept a loose relationship throughout the '90s, with Newsted recording a demo for Donkin and Sagrafena's funk band the Discojefes.
In 1999, Sagrafena and Donkin took a road trip to Baja, Mexico, writing new songs and polishing their old ones. When they got back to the States, they recorded a handful of new songs on eight-track, playing them for Newsted when he returned home from touring. The rough demos caught Newsted's ear and he offered to collaborate with the two, helping out on bass and assisting with the songwriting. In May of 2000, the trio entered a recording studio in Northern California and documented the songs that would become their debut album, with help from several fellow musicians, including
Metallica
guitarist Kirk Hammett, some banjo and guitar work from ex-
Faith No More
guitarist Jim Martin, and assistance from members of
the San Francisco Symphony
.
Metallica
frontman James Hetfield had always had a ground rule that no member of his band was permitted to work on side projects -- the theory being that if one of the bandmembers was putting his creative energies toward another project, they wouldn't be giving
Metallica
the 110-percent that he demanded. Tensions within the group escalated, and on January 17, 2001, Newsted announced that he was leaving the band due to "private and personal reasons." Despite veiled references to "the physical damage" incurred over the years with the notorious band, many suspected his departure was due in part to Hetfield's "with us or against us" policy.
EchoBrain's live debut came in August of 2001 at a showcase of Bay Area bands, joined on-stage by guitarist Chris Scianni and keyboardist David Borla (of the New York duo
Dangerman
). The self-titled Chophouse/Surfdog full-length followed in 2002, and received solid notices in the press. EchoBrain returned two years later with Glean. Though Newsted received an exec producer credit, bass duties had been taken over by vocalist Dylan Donkin's brother Adam Donkin. Guitarist/keyboardist Andrew Gomez also made his debut. ~ Zac Johnson
full bio
Similar Artists
Don't have a Pandora account? Sign up
Already have a Pandora account? Log In