Free personalized radio that
plays the music you love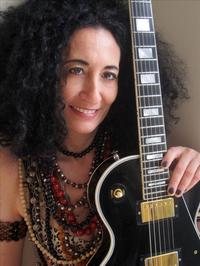 People who also like this
Born in Guayaquil, Ecuador, but raised mostly in New York City, Cecilia Villar Eljuri is a bilingual singer, guitarist (both electric and acoustic), and songwriter who was with the N.Y.C.-based bands the Trouble Dolls and
Grupo Fiesta
in the past but has since become a full-time solo artist. Earlier in her career, Eljuri played guitar on a lot of songs that were in English, but more recently she has concentrated on Spanish-language material and favored a rock en español/Latin pop approach. As a solo artist, the Big Apple resident has billed herself as simply Eljuri -- and her solo output has combined alternative pop/rock with a variety of Latin rhythms, ranging from Colombian cumbia to Spanish flamenco to Brazilian samba to Afro-Cuban salsa.
Ecuadorian music has also been a strong influence, which is not surprising given who her parents are; Eljuri is the daughter of Paco Villar, who was a pioneer in Ecuadorian broadcasting, and songwriter Olga Eljuri de Villar. With their encouragement, Eljuri began studying the acoustic piano at the age of five -- and at 12, she started a band that played
Rolling Stones
covers. Eljuri took up the guitar at 14 and started writing songs as an adolescent; one of the first things she wrote was a punk song titled "I'm Just a Teenager." In the mid-'90s, Eljuri became a guitarist for the alternative pop/rock band the Trouble Dolls, whose name was inspired by Guatemalan culture; in Guatemalan folklore/mythology, "trouble dolls" or "worry dolls" (muñecas quitapenas in Spanish) are very small dolls (usually no more than two inches tall) that children tell their problems to before they go to bed at night so that the dolls will do the worrying for them and make the problems go away before the child wakes up in the morning.
The Trouble Dolls, who catered to the English-language market despite having a Guatemalan-inspired name, were quite visible on the New York City rock scene and regularly played well-known downtown Manhattan venues like CBGBs and the Bitter End. It was during the late '90s that Eljuri formed an alliance with Paola Romano, who was the Trouble Dolls' manager and worked at Spin Magazine. Romano, knowing that Eljuri wanted to explore Latin music, encouraged the ecuatoriana to leave the Trouble Dolls in 1998 and form her own band,
Grupo Fiesta
(which included Cindy Padilla on lead vocals).
Unlike the Trouble Dolls,
Grupo Fiesta
concentrated on Spanish-language material -- and it was
Grupo Fiesta
that caused Eljuri to be more closely identified with rock en español and Latin pop.
Grupo Fiesta
recorded two albums -- Sueño (Dream) in 2000 and a self-titled disc three years later in 2003 -- before Eljuri decided to become a full-time solo artist in 2006. Eljuri's first solo album, En Paz (In Peace) was released on Manoville Records in May 2008 and boasted well-known guests who ranged from
Johnette Napolitano
(former lead vocalist for
Concrete Blonde
) to the Jamaican reggae duo of drummer
Sly Dunbar
and bassist Robbie Shakespeare. ~ Alex Henderson
full bio
Similar Artists
Don't have a Pandora account? Sign up
Already have a Pandora account? Log In