We created Pandora to put the Music Genome Project directly in your hands
It's a new kind of radio –
stations that play only music you like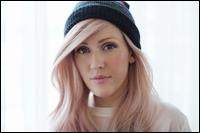 People who also like this
Having caught the public's attention in 2010 with her singles "Starry Eyed" and "Guns and Horses," British vocalist Ellie Goulding quickly rose to the top of the charts with her infectious electronic pop sound. Although she started out writing songs in a folk-inflected style, she eventually grew into a more electronic-influenced artist, touching upon dance music and ambient synth pop. With her unique soprano warble and knack for writing catchy yet emotionally earnest songs, Goulding, much like her predecessors
Kate Bush
and
Imogen Heap
, stands at the forefront of contemporary mainstream music and arty, independent-minded pop.
Born in Hereford, England, she later moved to the country's east coast to study drama at the University of Kent. Goulding had developed a love for folk music as a teenager, and her time at university also exposed her to electronica. After two years, she took a break from her studies and moved to West London, where she pursued a career as an alternative singer/songwriter and befriended producers like Starsmith and
Frankmusik
, who gave her songs an electro-pop twist. In 2009, Goulding began building an audience via the Internet, where early tracks like "Starry Eyed" and a cover of
Sam Sparro
's "Black & Gold" were posted on tastemaking MP3 blogs such as Discodust. Goulding soon graduated from the blogosphere to print media, gaining praise from mainstream publications like The Guardian and fielding offers from record labels. She ultimately signed a major-label deal with Polydor Records and began making preparations to release her debut album. In the meantime, she penned songs for
Diana Vickers
,
Gabriella Climi
, and others.
During the final weeks of 2009, Goulding topped the BBC's Sound of 2010, a poll conducted by British music critics and industry insiders to identify new talent. Building on that momentum, she released Lights -- a sparkling debut album that splashed Goulding's vocal flutter across a landscape of acoustic and synthesized instruments -- in March 2010. Lights topped the U.K. charts during its first week and spun off "Starry Eyed" as a Top Five single (it also charted well in Ireland and New Zealand). Later that year, the album was re-released as Bright Lights, featuring seven new recordings (including a cover of
Elton John
's "Your Song," which peaked at number two). In 2012, Goulding returned with her sophomore album, Halcyon, which showcased an even more sonically adventurous, electro-pop-infused sound. In 2013, a deluxe reissue featuring ten extra songs was released; entitled Halcyon Days, it acted as a supplement to the original release. ~ Andrew Leahey & Jason Birchmeier, Rovi
full bio
Selected Discography
x
Track List:
Goodness Gracious (Chainsmokers Extended Remix) (Single)
Similar Artists