We created Pandora to put the Music Genome Project directly in your hands
It's a new kind of radio –
stations that play only music you like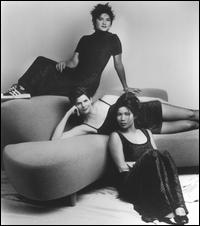 People who also like this
Famous for Latin-flavored dance-pop as well as for adult contemporary ballads, the female vocal trio Exposé enjoyed a great deal of commercial success in the '80s and early '90s. Exposé was the creation of Miami-based producer/songwriter Lewis A. Martineé, who assembled the original Exposé lineup in 1984. Although Exposé's best-known lineup included Jeanette Jurado (born November 14, 1965, Pico Rivera, CA), Gioia Bruno (who was born in Bari, Italy, on June 11, 1963, but grew up in New Jersey), and Ann Curless (born October 7, 1963, Albany, NY), none of them were original members of Exposé; the original Exposé lineup consisted of Alé Lorenzo, Sandra Casanas, aka Sandeé, and Laurie Miller, which in 1984 recorded Exposé's Martineé-produced debut single, "Point of No Return," for his Pantera label. Employing Lorenzo on lead vocals and Casanas and Miller on backing vocals, "Point of No Return" was a major club hit and went down in history as a definitive example of Latin freestyle -- a high-tech form of dance-pop that incorporated elements of Afro-Cuban salsa and was also identified with artists like
the Cover Girls
, Sweet Sensation, Nayobe, and
TKA
.
The success of "Point of No Return" led to a contract with Arista Records, which released Exposé's second single, "Exposed to Love" (another Martineé-produced club smash that featured Lorenzo singing lead), in 1985. The following year saw a lot of upheaval in Exposé; Lorenzo, Casanas, and Miller all left the group in 1986 and pursued solo careers (Lorenzo and Casanas stuck with dance-pop, while Miller moved into jazz-influenced cabaret and traditional pop). But despite personnel changes, Exposé's popularity continued to grow. Exposé's third single, "Come Go with Me" (which featured Jurado on lead vocals), was another Latin freestyle club favorite -- and in early 1987, Arista released Exposé's Martineé-produced debut album,
Exposure
. By that time, Exposé's famous Jurado/Bruno/Curless lineup was in place -- a lineup that continued to perform Latin freestyle but did not perform it exclusively. Neither Arista nor Martineé envisioned Exposé as strictly a club act, and
Exposure
received considerable attention from radio thanks to major hits ranging from the adult contemporary ballad "Seasons Change" (which reached number one on Billboard's pop singles chart) to the R&B/urban-oriented "Let Me Be the One" (which featured Bruno on lead vocals).
After
Exposure
sold more than three million copies in the United States alone, Arista released Exposé's Martineé-produced sophomore album of 1989,
What You Don't Know
, which contained the major hits "When I Looked at Him" (an adult contemporary ballad) and "Tell Me Why." Sadly, Bruno had to leave the group in 1991 after a benign throat tumor rendered her unable to sing; Bruno, who was replaced by Kelly Moneymaker (born June 4, 1970), couldn't speak at all for about three years. Exposé's Jurado/Curless/Moneymaker lineup was heard on the group's self-titled third album, a 1992 release that didn't do as well as Exposé's first two albums but included the hit adult contemporary ballad "I'll Never Get Over You Getting Over Me."
Exposé
was the first Exposé album that wasn't totally produced by Martineé, and some fans complained that the disc's ballads sounded too much like
Wilson Phillips
. After being dropped by Arista, Exposé broke up in early 1996. Moneymaker, who married soap opera star Peter Reckell (best known for his portrayal of Bo Brady on NBC-TV's Days of Our Lives) in 1998, recorded as a solo artist -- and Bruno, who fully regained her voice in 1997, spent a few years with the band Wet before providing her solo album, Expose This, for Koch in 2004. Exposé's Jurado/Bruno/Curless lineup was reunited in 2006 and 2007 for an extensive tour of North America. ~ Alex Henderson, Rovi
full bio
Selected Discography
Similar Artists