We created Pandora to put the Music Genome Project directly in your hands
It's a new kind of radio –
stations that play only music you like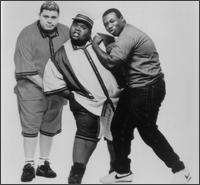 People who also like this
One of early rap's most successful acts, the Fat Boys parlayed a combined weight of over 750 pounds into a comic novelty act that sustained them through several albums and hit singles. Originally known as the Disco 3, Brooklynites Mark "Prince Markie Dee" Morales, Damon "Kool Rock-Ski" Wimbley, and Darren "Buff the Human Beat Box" Robinson won a talent contest at Radio City Music Hall in 1983, thanks in part to Robinson's talent for using his mouth to improvise hip-hop rhythms and a variety of sound effects. The trio changed their name and recorded a series of good-time party anthems and songs humorously exploiting their weight; their first few records were produced by
Kurtis Blow
and feature fusions of hip-hop with reggae and rock. The Fat Boys hit their commercial peak with 1987's platinum LP
Crushin'
, a collection of entertaining party tunes that included a hit collaboration with
the Beach Boys
, "Wipeout." The group took the opportunity to star in the comedy film Disorderlies that year.
Coming Back Hard Again
essentially repeated the formula of
Crushin'
; the cover this time was "The Twist (Yo' Twist)," which featured backing from
Chubby Checker
. However, audience tastes were changing, and the Fat Boys' gimmicky novelty act was quickly becoming passé. The group tried to expand their artistic and street credibility with the ill-advised "rap opera"
On and On
, which promptly stiffed and prefaced the group's breakup. Prince Markie Dee recorded a solo album in 1992 and went on to a successful R&B songwriting/producing career. Robinson died of a heart attack in December 1995. ~ Steve Huey, Rovi
full bio
Similar Artists