Free personalized radio that
plays the music you love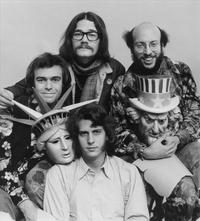 People who also like this
By fusing the high-concept comic vision of
Stan Freberg
with the expansive studio experimentation of
the Beatles
, the Firesign Theatre singlehandedly dragged the comedy album into the psychedelic era. Creating densely layered montages of improvisational routines, overheard dialogue, media manipulation, commercial parodies, and sound effects, the four-man troupe devised a hallucinatory brand of surrealist comic performance and Joycean satire laced with puns, metaphors, and obscure literary allusions that redefined the very concept of recorded comedy.
Comprised of Phil Austin, Peter Bergman, David Ossman, and Philip Proctor, the Firesign Theatre debuted on Los Angeles' KPFK radio on November 17, 1966, with a performance of "The Oz Film Festival," a three-hour improvisational piece. Their recorded bow, Waiting for the Electrician or Someone Like Him, followed in 1968; loaded with obvious drug references and clearly reflective of the hippie mentality of the times, the record won the troupe a tremendous following on college campuses and among the acid culture. Their 1969 follow-up, How Can You Be Two Places at Once When You're Not Anywhere at All?, featured the first appearance of Nick Danger, their popular parody of Sam Spade and hardboiled crime fiction.
With 1970's Don't Crush That Dwarf, Hand Me the Pliers, Firesign perfected the formula, offering a fragmentary, cut-and-paste set of mock news broadcasts and radio drama satires. Their studio trickery became even more pronounced with 1971's I Think We're All Bozos on This Bus, an absurdist look at the future set at a World's Fair-like festival, while 1972 brought two diverse efforts: the first, the 12-record set Dear Friends, sampled 1970-1971 moments from the Theatre's syndicated radio program, and the second, Not Insane or Anything You Want To, featured all new material.
After a two-year hiatus, the Firesign Theatre returned in 1974 with both The Tale of the Giant Rat of Sumatra and Everything You Know Is Wrong! After the sci-fi paranoia of 1975's In the Next World You're on Your Own, the group's longtime association with Columbia ended, and Firesign moved to the Butterfly label for 1977's Just Folks: A Firesign Chat. As times changed and drug use tapered off, the troupe's core collegiate following began to dwindle; after 1979's Fighting Clowns, the Theatre's members began working on solo projects, but reunited in 1985 for Eat or Be Eaten. After again parting ways, they reteamed for a series of 1993 performances later documented on Back from the Shadows. Give Me Immortality or Give Me Death followed in 1998, and a year later the troupe returned with Boom Dot Bust. The Firesign Theatre continued performing into the 21st century, including 2002 appearances on NPR's All Things Considered compiled on the 2003 Artemis label release All Things Firesign. Founding member Peter Bergman died in March 2012 after a bout with leukemia; the other Theatre members planned a "Big Brouhaha" in tribute to Bergman the following month in Seattle. Phil Austin died from an aneurysm in June 2015. ~ Jason Ankeny
full bio
Selected Discography
Similar Artists
Don't have a Pandora account? Sign up
Already have a Pandora account? Log In