We created Pandora to put the Music Genome Project directly in your hands
It's a new kind of radio –
stations that play only music you like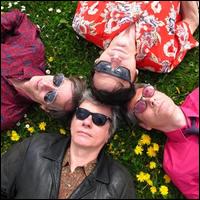 People who also like this
Often tagged as garage rock revivalists, the Fleshtones mix the fuzz guitar and Farfisa organ sounds of that genre with rockabilly, '50s and '60s R&B, and surf into a potent retro stew the group likes to call "super rock." The group formed in 1976 in Queens, New York with vocalist/keyboardist Peter Zaremba, guitarist Keith Streng, bassist Jan Marek Pakulski, and drummer Bill Milhizer and aimed to return rock & roll to the simplicity and unselfconsciousness of the '50s and early '60s. (The group was often joined on-stage and in the studio by sax player Gordon Spaeth, who passed on in 2005.) The group fit nicely into New York's punk and new wave scene, and an early single, "American Beat," attracted the attention of independent label Red Star and, in time, IRS. The group's debut EP, Up-Front, was released in 1980 and was followed by its first full-length album, Roman Gods, and
Blast Off!
, an unreleased studio album recorded for Red Star in 1978.
Hexbreaker, widely regarded as the Fleshtones' finest album, arrived in 1983. The band continued to record through the '80s and released
Powerstance
in 1992 and
Beautiful Light
in 1994. (
Powerstance
also marked the debut of new Fleshtones bassist Ken Fox, who replaced Pakulski in the lineup and has been with the group ever since.) While the group's popularity dipped under the radar in the last half of the '90s, in 2003 the Fleshtones bounded back when they were signed to the potent indie label Yep Roc Records and released one of their best albums,
Do You Swing?
An equally solid follow-up,
Beachhead
, was issued in 2005 and was produced in part by Detroit garage rock kingpin Jim Diamond. In 2008, more than 30 years after the Fleshtones formed, they released Take a Good Look, proving their ability to be just as raucous as they were in the good ol' days, and a few months later, the group dropped its first Christmas-themed release,
Stocking Stuffer
.
The band brought in Lenny Kaye to guest on guitar for 2011's
Brooklyn Sound Solution
, a change-of-pace album dominated by covers and interwoven guitar work, and in 2012 the Fleshtones tipped their hats to their Spanish-speaking fans with a four-song EP recorded
en español
, Quatro x Quatro. The Fleshtones returned to typically raucous form for 2014's Wheel of Talent, a set recorded in Spain, Detroit, and Brooklyn. Fleshtones side projects have included Keith Streng's band Full Time Men, which featured
R.E.M.
guitarist Peter Buck; Peter Zaremba's Love Delegation; and the Master Plan, featuring Streng and Milhizer collaborating with Andy Shernoff of
the Dictators
. ~ Steve Huey, Rovi
full bio
Selected Discography
Similar Artists