Free personalized radio that
plays the music you love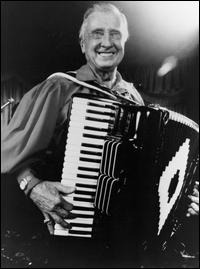 People who also like this
Frankie Yankovic And His Yanks
America's undisputed Polka King, Frankie Yankovic did more to popularize polka music than any other single performer, and remains the yardstick by which all other polka artists are measured. Yankovic was the first polka artist to score a million-selling single (1948's "Just Because"), the first to perform on television, and the first to win a Grammy for Best Polka Album when the category was created in 1985. Singing mostly in English, Yankovic modernized the folk-dance music of Central and Eastern Europe for American audiences, giving it an appeal that extended beyond the immigrant communities who kept it alive. His brand of polka had a bouncier beat than the traditional, brass-heavy "oom-pah" style, partly because he favored lighter, leaner arrangements that often included banjo, electric organ, and two accordions. Where most accordion players remained seated on-stage, burdened by a heavy and somewhat cumbersome instrument, the energetic Yankovic played for hours on end standing up
and
bouncing along to the music. His cheerful stage presence was a perfect match for the genial informality and liveliness of polka music, and audiences connected readily with him. Yankovic's best-known songs are standards of the genre, and his name is still more associated with polka than any other musician. And no, he isn't related to
Weird Al
.
Yankovic was born July 28, 1915, in the small logging settlement of Davis, WV, home to many recent Slovenian immigrants (among them his parents). When local authorities discovered that Yankovic's father was bootlegging liquor, the family abruptly moved to Cleveland. Mr. Yankovic worked as a crane operator and later opened a hardware store, as well as running a boarding house for fellow Slovenians. One of his boarders was an accordion player named Max Zelodec, who greatly impressed young Frankie. At age nine, he began taking lessons from Zelodec on the button accordion, and switched to the more challenging piano accordion at 16. He soon formed his own polka band, and in 1932 started making regular appearances on a local Slovenian radio show, which greatly raised his profile in the area. In 1938, having been rejected by both Columbia and RCA, Yankovic put out a 78 rpm record on his own Yankee label, billed to the Slovene Folk Orchestra (in case it flopped). It was a local hit, however, prompting another self-released and self-distributed follow-up in 1939.
Yankovic's group was in high demand all over Ohio, Pennsylvania, and Michigan, playing at clubs, weddings, and other social events. In 1941, he opened his own bar, which allowed his band to play near home and spend more time with their families; it also became a haven for area polka musicians. Yankovic enlisted in 1943, and cut some records while on leave, prior to his departure for Europe. He fought in the Battle of the Bulge, where a severe case of frostbite nearly resulted in the amputation of his hands and feet; fortunately, he was able to beat the gangrene before that became necessary, and was awarded a Purple Heart. Upon arriving home, he returned to his bar and his band; Johnny Pecon became an important member of the group, singing harmony with Yankovic and playing harmony accordion as well.
Columbia reconsidered its earlier rejection and signed Yankovic to a contract in 1946. In 1948, he was first crowned America's Polka King at a contest in Milwaukee. That year, he scored a major national hit with "Just Because," a gold-selling cover of a relatively obscure country song recorded in the mid-'30s by the Shelton Brothers. The follow-up, "Blue Skirt Waltz," was another big seller in 1949, adapted from a Bohemian folk melody with English lyrics by Mitchell Parish. Yankovic brought his band to Hollywood in the early '50s, where they recorded with
Doris Day
and made several short films for Universal showcasing their stage act. Yankovic continued to record for Columbia through the '50s and most of the '60s, waxing many of the genre's best-known songs: "Beer Barrel Polka," "Who Stole the Keeshka?," "Too Fat Polka," "Hoop De Doo," "Champagne Taste and a Beer Bankroll," "In Heaven There Is No Beer," and many others. His band, the Yanks, became a revolving-door affair, as life on the road -- traveling by car to as many as 300 gigs a year -- usually wore down the musicians after a few years, not to mention keeping them away from their families.
During his heyday, Yankovic won a battle of the bands against
Duke Ellington
in Milwaukee, and hosted polka variety shows that aired in Cleveland, Chicago, and Buffalo during the early '60s. He struck gold in 1962 when he hired 13-year-old Chicago accordion prodigy Joey Miskulin, who quickly became a cornerstone of the band; Miskulin later moved into songwriting, arranging, and producing for them as well, and remained with Yankovic for the rest of his career. After two decades with Columbia, Yankovic moved to RCA in 1968, and later went on to record for a succession of smaller labels. He published his autobiography in 1977, and his 1985 album 70 Years of Hits won the first-ever Grammy in the polka category; he was also the first artist inducted into the Polka Music Hall of Fame.
Reluctantly forced by his age to sit down when he performed, Yankovic announced his retirement in 1994, but backtracked and kept performing for three more years, including a tour with acclaimed polka newcomer Walter Ostanek. He also continued to record for the Cleveland International label, which in 1996 released the well-publicized album Songs of the Polka King, Vol. 1. It featured several special guests, from
Weird Al Yankovic
and Cleveland comedian Drew Carey to country stalwarts
Chet Atkins
, Cowboy Jack Clement, and
Riders in the Sky
, on a set of Yankovic standards. 1997's Vol. 2 follow-up featured Clement,
David Allan Coe
, and
Don Everly
, among others; both volumes were nominated for Grammys. Unfortunately, Yankovic's health was failing, and in 1998 he suffered a fall at his home in New Port Richey, FL, near Tampa; several days later, on October 14, he passed away. ~ Steve Huey, Rovi
full bio
Selected Discography
Similar Artists
Don't have a Pandora account? Sign up
Already have a Pandora account? Log In