Free personalized radio that
plays the music you love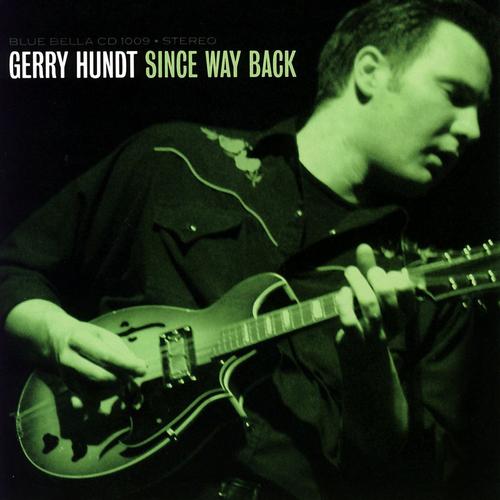 People who also like this
Gerry Hundt is a blues player adept on guitar, bass, harmonica, and electric and acoustic mandolin. He lives and works in Chicago and since 2004 has been a utility player with Nick Moss & the Flip Tops. He records for the Blue Bella label, a logo that's kept busy documenting the blues revival of the early 21st century. He's played on many Blue Bella releases, and also has credits as a producer and engineer on some sessions. In 2007 he released his debut as a bandleader, Since Way Back, a record that Hundt hopes will revitalize the mandolin blues tradition -- carrying the flame that
Yank Rachell
,
Johnny Young
, and
Carl Martin
ignited years ago -- for a new generation. Since Way Back also shows that Hundt is an impressive vocal stylist, by turns rowdy, good-natured, and soulful.
Hundt was born in Appleton, WI, on May 29, 1977, but his family moved to Rockford, IL, when he was three. He had a happy middle-class childhood and his parents recall his fondness for Sesame Street, a program that included lots of jazz and roots music;
Sha Na Na
; and the soundtrack to The Jungle Book. A nursery-school teacher told his mother, "Gerry has a great love for music and dancing...He has many friends who look forward to seeing him." He began making up songs at an early age, but avoided the piano lessons his sister was saddled with. He tried alto saxophone in fifth grade and didn't like it, but hearing
Jimi Hendrix
's "The Wind Cries Mary" in seventh grade was a turning point. He collected everything
Hendrix
in high school and got the blues bug when his friend Myke Weiskopf, who is now an electronic music artist in L.A., gave him a compilation called Story of the Blues. The album traced the development of the blues from the Fra-Fra Tribesmen all the way up to
Elmore James
.
Bukka White
's "Parchman Farm,"
Leroy Carr
's "Midnight Hour," and
Big Joe Williams
' "Wild Cow Moan" were imbedded in his young brain. The last tune is significant because it was probably the first time he heard
Yank Rachell
on blues mandolin, although he didn't realize it at the time.
At Middlebury College in Vermont, Hundt studied the classics -- Latin and ancient Greek -- and earned a B.A. c*m laude in 1999. He started playing harp in college when was sidelined with a sports injury in the fall of 1993. He bought the first album he saw with a harmonica on the cover, Buddy Guy & Junior Wells: Alone & Acoustic, and intuitively took to the instrument. He also started guitar lessons from Paul Asbell, a player with an incredible blues résumé, having played and recorded with
Earl Hooker
,
Muddy Waters
, Lightnin' Hopkins, and many others. He learned jazz theory and finger-style guitar from him. During school breaks, back home in Rockford, Hundt played harmonica with the Fellartones, covering everyone from
Fenton Robinson
to
Phish
and
War
. There was a lot of
Hendrix
in his phrasing, which also moved him closer to the blues. He also hung out at Glenn Davis' Silver Moon club in Wisconsin, where he played at jam sessions once or twice a week. Davis' showmanship, stage presence, and guitar style impressed him for their blend of traditional and modern elements. Hundt says he has a lot of Davis in his guitar playing.
After graduation, his uncle got him a job for a construction company in Golden, CO, where he met the ClamDaddys at an open-mike night. They invited him to play bass on a weeklong tour of Idaho. "Mo Walker from the ClamDaddys has a great history of training guitar players to play bass," Hundt recalled in a 2007 interview. "Simply throw the baby in the water. The ClamDaddy repertoire is diverse, full of really fast tunes that have ragtime chord progressions -- lots of chords -- and arrangements that change in the middle of the song and from night to night. If you can hang with the Daddys on bass...." Hundt began thinking about making music as a living and moved to N.Y.C. to work as a stagehand at MTV, VH1, and various other venues. He played garage rock once or twice a month with the Push Ponys and recorded on indie rock projects with Quinn Raymond and Ben Gitenstein.
John-Alex Mason
, a college buddy, was playing blues for a living in Vail and asked Hundt to come out and play harmonica for a week's worth of Delta blues shows in March of 2001. They did another week in July, instigating Hundt's move to Colorado to play at the Telluride Blues Festival with
Mason
on September 14, 2001.
Hundt moved between Colorado and his parents' home in Illinois for several years. In October of 2003 he was hosting a jam at the Lakewood Grill when he met
Nick Moss
, who was looking for a Saturday night gig for
the Flip Tops
. Hundt offered
Moss
a gig, and played with the band when they came back to town. When
Moss
' wife Kate, who was
the Flip Tops
' bass player, got pregnant, Hundt offered his services.
Moss
brought him on as a fifth piece, playing guitar and harp. In April of 2004, Hundt joined
the Flip Tops
full-time and moved to Chicago, where he still resides. Hundt fit right in with
the Flip Tops
, relentlessly touring and recording with the band. He also plays an important player at Blue Bella Records, the label
Moss
started to document the Chicago blues revival of the early 21st century. He's recorded with
Moss
, Bill Lupkin, and the Kilborn Alley Blues Band, and produces and engineers recordings as well. In 2007 he released his first record as a leader, Since Way Back, featuring his own singing and blues mandolin playing. The album won Hundt a nomination for a 2008 Blues Music Award for Best Instrumentalist -- Other (Mandolin).
Hundt had only been playing mandolin for a few years when he cut Since Way Back, which was done live in the studio with minimal overdubs. Several tunes, including "The Lakewood Bump," were improvised in the studio. Reviews for the album have been stellar, with one critic saying, "Hundt's phrasing is reminiscent of piano greats like
Otis Spann
or
Johnnie Johnson
." Hundt expressed his appreciation for the accolade in 2007: "I was thrilled that someone took the time to listen and really think about (the record)....Some of my favorite
Johnny Young
recordings are just
Otis Spann
and him. They were having a musical conversation, and it seeped into my playing. There are a lot of two- and three-note 'rolls/trills' that I play. You can play them on the piano exactly like you can play them on the mandolin. I've been learning piano recently, so it was fun to figure those out. I have such reverence for Chicago blues piano, so this was one of the greatest compliments to me, if not the greatest."
"One thing I love about blues mandolin is that there isn't a huge repertoire," Hundt continued. "There's a lot of room for expansion of its vocabulary. When I play, I really feel like I'm reaching into an untapped well of blues expression. My feeling for the mandolin is similar to my feeling for harmonica; I feel very close to the instrument and there isn't a whole lot of thought that goes on while I'm playing. It could have something to do with tuning; blues harmonica and mandolin deal with intervals of three and a half tones (fifths), rather than two and a half tones (fourths) in guitar and bass. You can mindlessly strum or play a mando or harp and the notes still fit in better than with a guitar. Something I heard from Paul Asbell really speaks to this; he told me that all those blues guys,
B.B.
or whoever, they're playing intervals, not scales." ~ j. poet
full bio
Selected Discography
Similar Artists
Don't have a Pandora account? Sign up
Already have a Pandora account? Log In