We created Pandora to put the Music Genome Project directly in your hands
It's a new kind of radio –
stations that play only music you like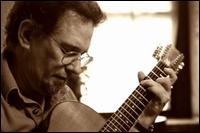 People who also like this
Founding member of the enigmatic indie instrumental group
Cul de Sac
, Glenn Jones started playing guitar at age 14, opening the door on what would be a decades-long journey into inventive and exploratory sounds. Along with fellow Boston experimental musician Robin Amos, Jones formed
Cul de Sac
in 1990. The two would be the only constant members throughout the band's lifespan. Over the next two decades, the band would release a plethora of albums, singles, and EPs, focusing almost entirely on instrumental pieces and developing a signature sound melding noisy electronics, finger-style acoustic guitar, and terse rock rhythms. Jones occasionally played homemade instruments of his own design on these recordings, including a prepared lap steel guitar he dubbed "the Contraption."
A self-proclaimed student of what he calls "the Takoma School," Jones' instrumental style heavily follows the influence of
John Fahey
and falls generally into the rustic pastoral territory of
Fahey
and other American Primitive artists. In 1997, Jones collaborated with
Fahey
on
The Epiphany of Glenn Jones
, a rough-hewn pastiche of sound collage, collective jamming, and several spoken word pieces. In the early 2000s,
Cul de Sac
's activity slowed down significantly, and Jones began work on solo recordings. These discs moved away from
Cul de Sac
's ever-shifting but usually loud sonics toward a more stripped-down, gentle approach. This Is the Wind That Blows It Out was released by Strange Attractors Audio House in 2004; Jones would issue two other solo discs with Strange Attractors Audio House, including Against Which the Sea Continually Beats in 2007 and Barbecue Bob in Fishtown in 2009, which included his first forays into banjo playing.
In 2011 Jones released
The Wanting
, his first album with Chicago post-rock flagship label Thrill Jockey.
The Wanting
more deeply explored open tunings and featured "The Orca Grande Cement Factory at Victorville," an extended duet with powerhouse percussion improviser Chris Corsano. He followed in 2013 with My Garden State, and album written in Jones' boyhood New Jersey home while he was caring for his ailing mother. ~ Fred Thomas, Rovi
full bio
Selected Discography
Similar Artists