We created Pandora to put the Music Genome Project directly in your hands
It's a new kind of radio –
stations that play only music you like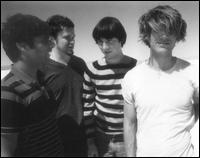 People who also like this
With an experimental post-punk attitude and influences ranging from Krautrock to dub, Gogogo Airheart formed in San Diego in 1996, originally consisting of just core members Ashish Vyas and Michael Vermillion. A series of homemade cassette recordings got them signed to Vinyl Communications, and in late 1997 they released their (first) self-titled LP with the help of Andy Robillard on drums and Teri Hoefer on violin. This was followed by Love My Life...Hate My Friends in 1998. A number of changes came in 1999, the main one being a shift in personnel. Hoefer and Robillard left the group, replaced by guitarist Ben White and temporary fill-in James LaValle on drums.
They also switched to Chicago indie Overcoat Recordings for the release of the
Things We Need
EP, and brought in Jay Hough on drums. Later that year, Sympathy for the Record Industry offered up a split release with Los Cincos side project Syncopation. Another split release with
the 90 Day Men
was released by Box Factory Records in 2000. That same year brought them to Gold Standard Laboratories (who would end up re-releasing their first two albums) and the release of their third LP (Out Every Window the Snap of Envy & Greed). ExitheUXA appeared in 2002, followed by a European tour, after which Ben White and Jay Hough left the group and Andy Robillard returned. White returned in time for
Rats! Sing! Sing!
, which arrived in fall 2005. Some touring followed the record's release, but by mid-2006, Gogogo Airheart had called it quits. Mainly citing financial problems as the reason behind the split, their last show was performed that May in San Diego. ~ Sean Westergaard, Rovi
full bio
Selected Discography
Similar Artists