We created Pandora to put the Music Genome Project directly in your hands
It's a new kind of radio –
stations that play only music you like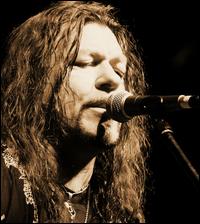 People who also like this
Harmonica player Peter Harper was born in Guildford Surrey, England, on November 10, 1968, and moved with his family to Perth, Australia when he ten. While attending grade school in the '70s he began playing the euphonium and trumpet in the brass concert band. His interest in music was really sparked around this time when he started digging through his grandfather's record collection. It was here that Harper found inspiration in blues legends such as
Howlin' Wolf
,
Sonny Boy Williamson
,
Muddy Waters
, and Little Walter. Never one to limit himself to one particular style, Harper also began seeking out the soul sounds of
Edwin Starr
and
Marvin Gaye
; English folk; and the British Invasion of
the Yardbirds
,
Cream
, and
the Small Faces
. Harper, who always considered himself to be a singer first, picked up the chromatic harmonica for fun around 1978 after listening to
Stevie Wonder
. He played along to Wonder's songs and then began experimenting with playing guitar lines and even theme songs to television shows like Lost in Space. It was at this time that Harper also began to manipulate the sounds he was blowing out of his harmonica, which would later become his trademark, employing effects like delay and phasing. In 1979, Harper's family migrated to Perth, Australia, after his father decided that the country offered a better lifestyle and employment opportunities. For the next 14 years, Harper played local clubs until he received his first record contract. Since 1994, Harper has released four albums, two of which were with the band Blue Devil.
Harper became involved in the music scene in Perth, Australia, around 1980 and loved performing live, citing the fact that it was like letting everything go when he was onstage. Throughout the 1980s and into the early portion of the 1990s, Harper performed at clubs across Australia. The groups he played with during the '80s included the King Pins, the Magnificent Seven, West of the Wall,
the Flirts
, the Mods, and Good Horse. During the early '90s, his band Blue Devil worked together for almost six years before they recorded their first album, Tears of Ice. The group received their first record deal with the Newmarket label, which was involved in Australia's roots music scene. In 1996, Harper decided it was time to switch labels after Newmarket didn't promote Tears of Ice to an acceptable level. During that same year, Harper released his second album, Yesterday Is Over on Shock Records. It was to be his last album with Blue Devil backing him. Harper felt it was time to further develop his own sound, which he'd been working on since the late '70s. He felt that in order to do this, he had to start from scratch with new musicians. In 1997, he released his first record as a solo artist on his own independent label, Harp Records. The album was a live record titled Live at the Soup Kitchen. However, Harper didn't feel that the release was his first real solo record; that came in the form of the June 2000 release of Glass on the Stepping Stone on Full Moon Records. This was the first studio album without the Blue Devil lineup backing him. Harper felt that he achieved the goal of finally finding his own sound and working it into arrangements that he enjoyed. With Glass on the Stepping Stone, Harper had total control over the songwriting and production from the moment of its conception up until the final mix of the master. Since 1997, Harper has toured the United States five times in order to promote Live at the Soup Kitchen and Glass on the Stepping Stone. During that time, he opened up for artists including John Mayall and the Blues Breakers, Ko Ko Taylor,
Little Feat
,
Buddy Guy
, and the Robert Cray Band, among many others. Harper signed a deal with the German imprint Nibelung Records/Indigo at the end of 2000 and planned on releasing another album in March 2001 for distribution in Europe, North Africa, and the Mediterranean. ~ Stephen Howell, Rovi
full bio
Selected Discography
Similar Artists