We created Pandora to put the Music Genome Project directly in your hands
It's a new kind of radio –
stations that play only music you like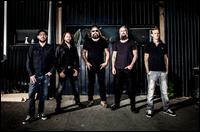 People who also like this
After leaving Ceremonial Oath to form In Flames, founding member and guitarist Jesper Strömblad saw this project as a way of expressing his songwriting creativity rather than being stuck in the background. With the added influences of
Iron Maiden
and
Black Sabbath
, along with his own touch of aggressive metal that overwhelmed his home country of Sweden, Wrong Again Records took notice and released In Flames' 1993 debut, Lunar Strain. In the tradition of many other Swedish metal acts, In Flames also had a revolving lineup that changed year after year -- not that this was going to stop them from releasing their next album,
Subterranean
(1994), before signing to Nuclear Blast Records in 1996.
After putting out The Jester Race album later that year, followed by 1997's
Whoracle
, In Flames' lineup was finally settled with Björn Gelotte (drums), Anders Fridén (vocals), Peter Iwers (bass), and Daniel Svensson (drums) in addition to Strömblad. To celebrate, the band released its sixth album,
Colony
, in 1999.
Clayman
followed in the same vein the next year, and the band even managed to keep the same lineup for this release. The live
Tokyo Showdown
was released to promote their tour in 2001.
Reroute to Remain
arrived in 2002, followed by
Soundtrack to Your Escape
in 2004 and Come Clarity in 2006. In 2008 the band released its ninth studio album,
A Sense of Purpose
, which featured the single "Mirror's Truth," followed in 2011 by Sounds of a Playground Fading, which was the first release not to include founding guitarist Strömblad, who left the band the previous year. Exploring a more progressive sound, the band returned with their eleventh album, Siren Charms, in 2014. ~ Mike DaRonco, Rovi
full bio
Selected Discography
Similar Artists