We created Pandora to put the Music Genome Project directly in your hands
It's a new kind of radio –
stations that play only music you like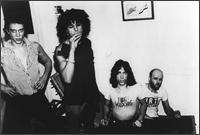 People who also like this
Ivan Julian is best known as a firebrand guitarist who made his mark on the early New York punk scene, but he's also served as a sideman for a diverse range of artists, as well as working as a bandleader, producer, and engineer. Julian was born in 1955, the son of a naval officer, and his father's occupation meant his family moved a great deal in his younger days, spending time in Cuba and Haiti before the family settled in Washington D.C. As a youngster, Julian studied bassoon and saxophone, and at 13 he joined his first rock & roll band, singing with a group that specialized in
Led Zeppelin
covers. Not long after, he took up the guitar and continued to focus on the instrument while studying music theory during a short stint in college. He also lived for a time in the U.K., touring as a guitarist with the Foundations, the British R&B outfit that scored a global hit with "Build Me Up Buttercup." After returning to the States, Julian relocated to New York City, where the nascent punk rock scene was catching fire at CBGB's and Max's Kansas City. When former
Television
and Heartbreakers bassist
Richard Hell
decided to form his own band in 1976, Julian was tagged to play guitar, and Richard Hell & the Voidoids became one of the seminal bands on the early New York punk scene, with Julian forming an impressive guitar duo with Robert Quine. Julian also co-wrote two songs on the group's classic debut album, 1977's
Blank Generation
, but the original Voidoids lineup didn't last long, and by 1980, Julian was free to form his own band. The Outsets were a combo who fused rock, funk, and R&B and cut an EP in 1983 with production help from
Garland Jeffreys
and Bob Clearmountain; they became a staple on the New York club scene, and
the Clash
were impressed enough with their work to invite Julian to add some guitar licks to their album
Sandinista!
, but the Outsets never broke out to a larger following. Julian retired the group to form the Lovelies with vocalist Cynthia Sley, formerly of
the Bush Tetras
; their sole album, Mad Orphan, was issued in 1988. Julian went on to become a touring member of
Shriekback
and was invited to play guitar on
Matthew Sweet
's 1991 album
Girlfriend
; the album became
Sweet
's commercial breakthrough, and Julian joined
Sweet
on-stage and in the studio regularly over the decade that followed. In 2001, Julian and the original lineup of the Voidoids reunited with
Richard Hell
to record a new song, "Oh," and in 2009 Julian teamed with
Hell
to record guitar leads for a reworked edition of
Hell
's 1982 album Destiny Street. Near the turn of millennium, Julian partnered with Matt Verta-Ray (of
Madder Rose
and Speedball Baby) to open a recording studio in New York City, NY Hed, and since then he's recorded and produced sessions for
the Fleshtones
,
Jon Spencer
, the Master Plan, and many others. Despite his busy schedule, Julian continues to write and record his own music, and after producing sessions for the Spanish band
Capsula
, he struck up a friendship with them.
Capsula
were accompanists on Julian's first solo album, 2011's
The Naked Flame
, and were his backing band on a tour of Spain. ~ Mark Deming, Rovi
full bio
Selected Discography
Similar Artists